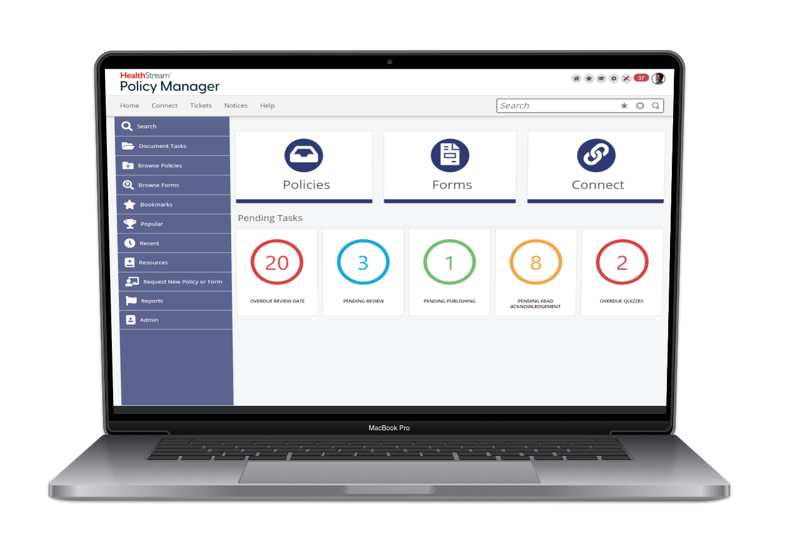 It's definitely not your fault. And many of your peers are facing the same challenges. But there is a simpler way. Much simpler, in fact.
HealthStream, which has worked together with over 4,000 healthcare organizations spanning over 30 years, offers a cloud-based policies and procedures management system to track and distribute policy documentation. This ensures that an organization's policies and procedures are always up-to-date and always accessible to relevant personnel.
Check it out at https://www.healthstream.com/solution/quality-compliance/policy-management/policy-manager
The company, winner of fifteen Brandon Hall Excellence in Technology awards, provides a SaaS tool for completing online policies and procedures, featuring comprehensive document publishing and version control. This platform was designed and developed in partnership with hundreds of healthcare organizations to produce a policy management system that is healthcare-focused and satisfies the needs of employees.
The policy management software market value - worldwide - is expected to top $3 billion in the next five years, growing at over 15% annually. The healthcare market for policy management software is especially strong, as many institutions seek to increase awareness about new updated policies, processes, and protocols connected to the pandemic. Policy management software has a number of advantages over manual management of documents, including providing consistency within the company, assisting in the reduction of the communication gap between employees and the organization, protecting the organization from litigation, and facilitating the achievement of the organization's goals.
HealthStream's policy management software allows organizations like yours to streamline the management tracking and ensure the accessibility of all policy and procedure protocols. This reduces the maintenance burden and the risk of costly oversights, which can otherwise result in litigation, fines, and wasted time.
You can see more at https://www.healthstream.com/solution/quality-compliance/policy-management
HealthStream Policy Manager includes a number of collaborative tools, comprehensive version control, dashboards, and reporting to keep track of progress, as well as staff attestation capabilities. Policy workflow and control are expedited thanks to simpler content editing, easy-to-use dashboards, ready to use library of policy templates, and a customizable authentication method. While increasing employee productivity, Policy Manager also facilitates audit readiness and reduces the risk of non-compliance.
One client commented: "With a few quick clicks, I can upload documents and edit existing content. The search function is very robust and helps our providers and clinicians quickly locate needed forms, policies, and other documentation required for patient care. The build-in document control feature is a key feature for our clinical policies and documents."
Fear of failure - and fines! - can be a motivating factor for change. But in the end, that's not really the point. You want your team to be less stressed, more meaningfully productive, and - in the end, bingo! - happier!
Go to https://www.healthstream.com/solution/quality-compliance/policy-management/policy-manager and request a demo to see for yourself.