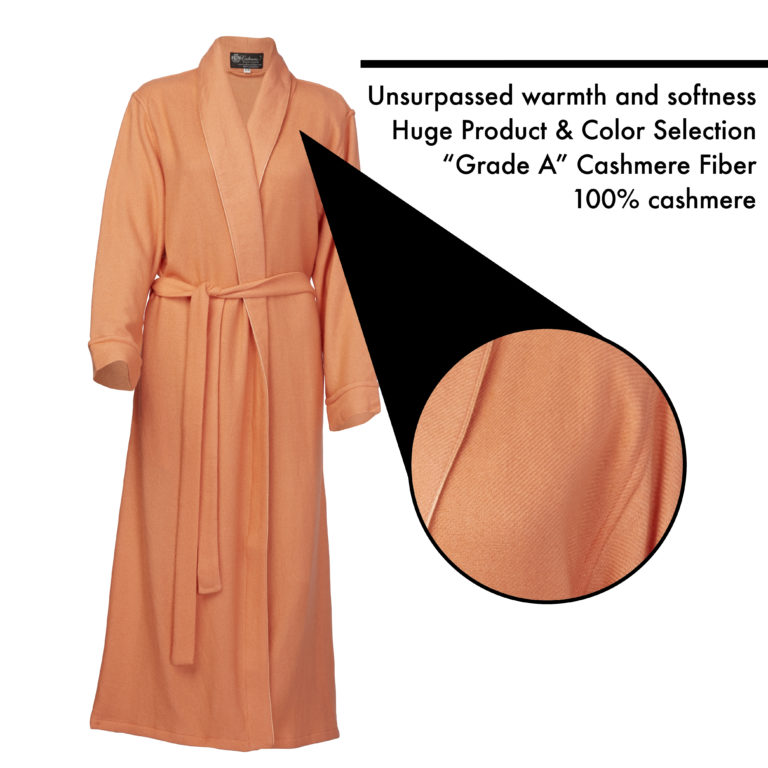 When it comes to relaxing at home, you should never skimp on comfort. Cashmere Boutique knows that the best way to unwind, indulge and let yourself truly feel like royalty is in 100% grade-A cashmere.
This luxury brand's Pure Cashmere Full Length Robe is designed to flatter all genders, with a shawl collar, a sash to tie around the waist, and two inseam pockets. In order to achieve the perfect level of warmth and softness, Cashmere Boutique makes its robes using 4-ply cashmere, meaning 4 strands are twisted together to make one ultra-thick piece of yarn.
Go to https://www.cashmereboutique.com/product-category/women/robes/ for more information.
This robe is available in 16 shades and in sizes S-M and L-XL. Unlike the brand's previous bathrobes, this product is full-length to provide greater coverage for the whole body, measuring 51-53" long in women's sizing and 52-55" in men's. No skimpy bathrobes here!
All wool used in Cashmere Boutique's products comes from the soft underbelly down of Nepalese Capra Hircus goats. The animals produce just 3 ounces of cashmere each per year, its rarity making it one of the most exclusive textiles in the world. The brand also only uses grade-A cashmere, which is the highest quality available.
In terms of caring for its cashmere bathrobes, Cashmere Boutique suggests that you hand-wash your garment in cool water using a gentle shampoo. Your robe should then be dried flat, away from direct heat in order to maintain its shape and softness.
In addition to its long bathrobes, Cashmere Boutique also offers an array of men's and women's wear, including coats, dresses, suits, and scarves. You can also find throws and blankets for the home from the online store.
Cashmere Boutique has provided premium-quality cashmere apparel to customers around the world since 1999. The brand is highly regarded for the comfort and softness of its leisurewear, as indicated by its numerous positive testimonials.
A satisfied customer said, "I recently got a hot tub for my husband and me for Christmas. I use this robe to walk out and back into the house. Really love the color, the length is perfect and it's so soft on the inside. Also, we recently spent the weekend in Tahoe. I wore it there and was so happy to have it as the cold was bone-chilling. Very happy with this item."
If you're still wondering, let us assure you: you absolutely deserve this level of comfort.
Order yours at the link above or visit https://www.amazon.com/Cashmere-Boutique-Women-Color-Medium/dp/B004T3LWCE/ref=sr_1_1_sspa?crid=1PE5M8X64R77X&keywords=cashmere+robe&qid=1666057955&qu=eyJxc2MiOiI2LjU0IiwicXNhIjoiNi4wNSIsInFzcCI6IjQuOTkifQ%3D%3D&sprefix=cashmere+robe%2Caps%2C182&sr=8-1-spons&psc=1