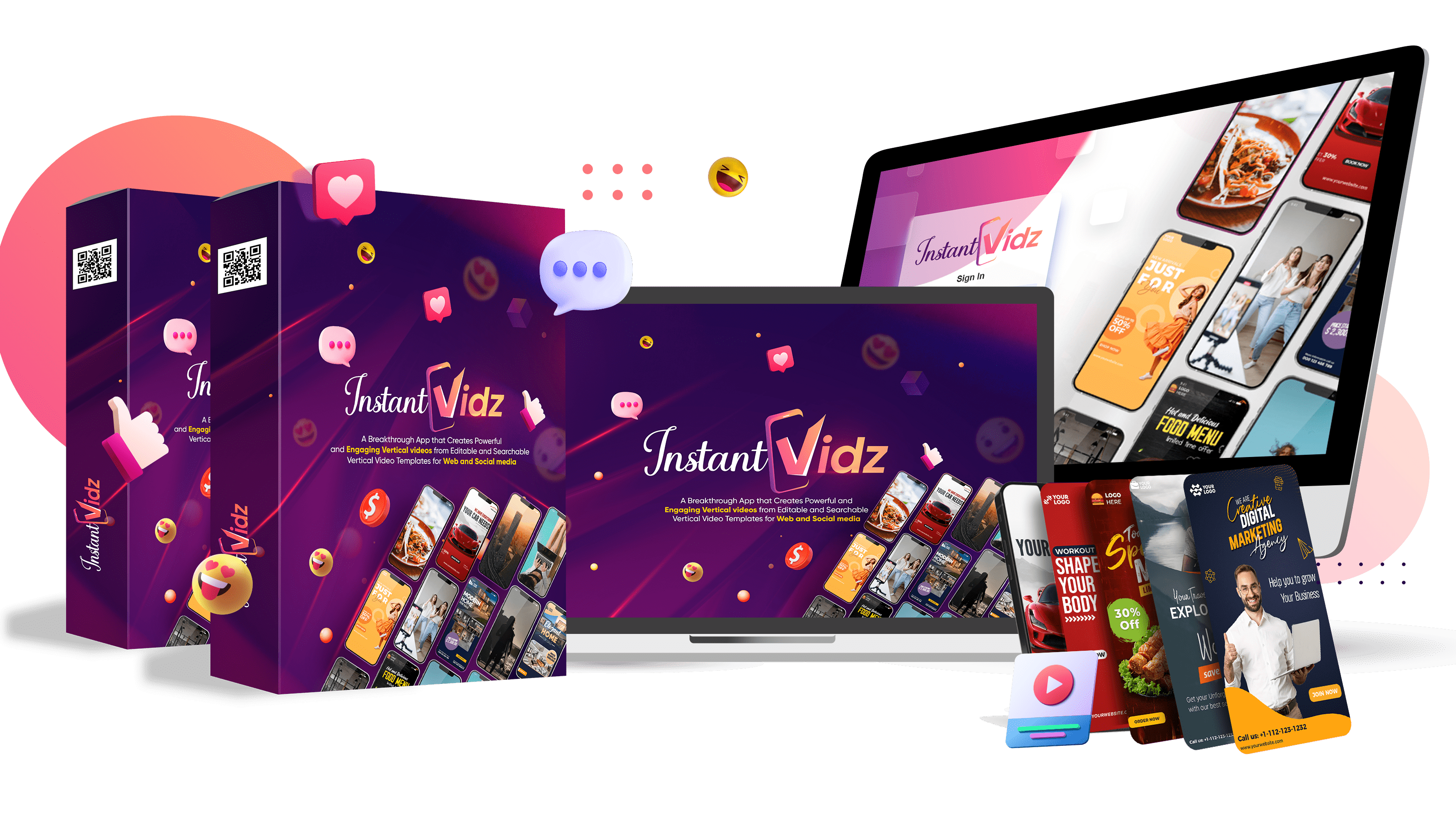 Video content on social media is the future, and if you're not using it, then you run the risk of losing out to the competition. Thankfully, this tool makes it dead simple to create stunning videos quickly!
InstantVidz gives you the chance to connect to your audience in engaging ways without expensive equipment or software. You can leverage pre-built templates to customize branded content for both web marketing projects and social campaigns.
Get your InstantVidz for just $37 at https://muncheye.com/eric-holmlund-et-al-instantvidz
With built-in editing tools and over 100 vertical video templates, the content creation suite empowers you to deliver consistent production for Instagram, TikTok, Twitter, or Facebook. Vertical videos can also provide you with growth opportunities through YouTube Shorts.
Given the growing popularity of TikTok, Snapchat, and Instagram Reels, vertical videos are becoming increasingly prominent across social channels. Facebook data shows that vertical videos generate four times as much attention as square videos. Furthermore, 65% of customers prefer buying from brands that use video as part of their marketing approach.
InstantVidz allows you to create your own vertical videos with 10,000 downloadable options available. Background music can be added through the integrated library, with speed control and trim functions to simplify the editing process also available.
By using the new tool for your social media marketing campaigns, you can build stronger brand awareness and recognition. You can also use the video content you create as an effective lead-generation tool, driving more clickthroughs.
InstantVidz's developer, Eric Holmlund, has years of experience as an entrepreneur and has been building marketing apps since 2015. With his vertical video creation tool, he sought to find a solution for business owners struggling with the time-consuming process and challenges associated with the traditional video creation process.
With InstantVidz, influencers, content creators, and business owners can boost engagement and conversion on social media channels more effectively.
A spokesperson states: "InstantVidz is the first-to-market, revolutionary vertical video creator app with built-in editing tools and 100+ vertical marketing templates to create attention-grabbing vertical and horizontal videos with a few clicks. With InstantVidz, you can instantly create hundreds of awesome vertical Videos for Google, Facebook, TikTok, Snapchat, Instagram, and YouTube with a few clicks of your mouse! With commercial rights, you can have your own agency."
Are you ready to take your social media marketing strategy to a whole new level? Grab your copy of InstantVidz today!
Go to https://letsgolook.at/InstantVidz for all the details you need!