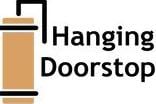 With 15,000 children per year needing surgery for jammed fingers in doors and door hinges, father of 2 - Tony Roma - set about developing a solution to keep little fingers, toes, and even paws safe around the home.
For what he describes as 'the price of a good hamburger,' he devised a solution to keeping doors open without something on the ground. His ingenious invention prevents doors from closing or slamming and reduces the risk of injury from interior doors for children, pets, and adults alike.
If you're a parent, Hanging Doorstop's easy-to-use device will keep your little ones safe while playing around the house and bring you peace of mind.
The hinge-hooked door stopper will also prevent pesky door closures if you're moving, carrying groceries, or even a commercial user or first responder!
Check it all out at https://hangingdoorstop.com
Placed above the ground, the Hanging Doorstop is kept well out of the way from kids and pets and prevents tripping hazards.
The stopper simply hooks onto door hinges and allows for different degrees of opening. Available in two design formats, it can be fitted to both small and large hinges and utilized by parents, movers, cleaners, carpenters, owners of hotels and motels, and more!
Hanging Doorstop notes that according to RoSPA, 2 million children under the age of 15 suffer from accidents at home every year. Of these, 15,000 require surgery for trapped fingers in doors.
The company's primary motivation for developing the Hanging Doorstop was to increase home safety and help prevent finger-trapping accidents. The innovator said: "The spaces behind doors are where kids play and get their fingers trapped. Through trial and error, I came up with the Hanging Doorstop, or child finger guard, to prevent the doors from closing."
Of the two Hanging Doorstop designs, the Little Brother features a hardwood body with brass or stainless-steel hooks. It requires no tools to fit and holds doors open to 70 degrees.
The Big Brother was developed after the company was approached by commercial users, movers, and first responders who needed to hold doors open wider. This option is available in wood or high-quality steel and props doors open to 90 degrees.
Both designs can be used on different types of doors. If you want to hold a door open wider, the company recommends you use both Big Brother and Little Brother together, or two Little Brothers. Optional reflective tape is provided for visibility.
The Hanging Doorstop was developed to increase safety for children and everyone at home. You can purchase the products through the company's website, via Amazon and Etsy if you live either in the US or abroad.
A satisfied customer said: "There are two disabled people in our household. When we go out via wheelchair or gurney, this door stopper keeps our door from slamming. We live in a high-rise building and the strong cross drafts can blow the door shut. This helps us get through the door safely."
The Hanging Doorstop is the simple, effectively made doorstop solution you need at home, work, and anywhere there is a door!
To get yours today, visit https://hangingdoorstop.com