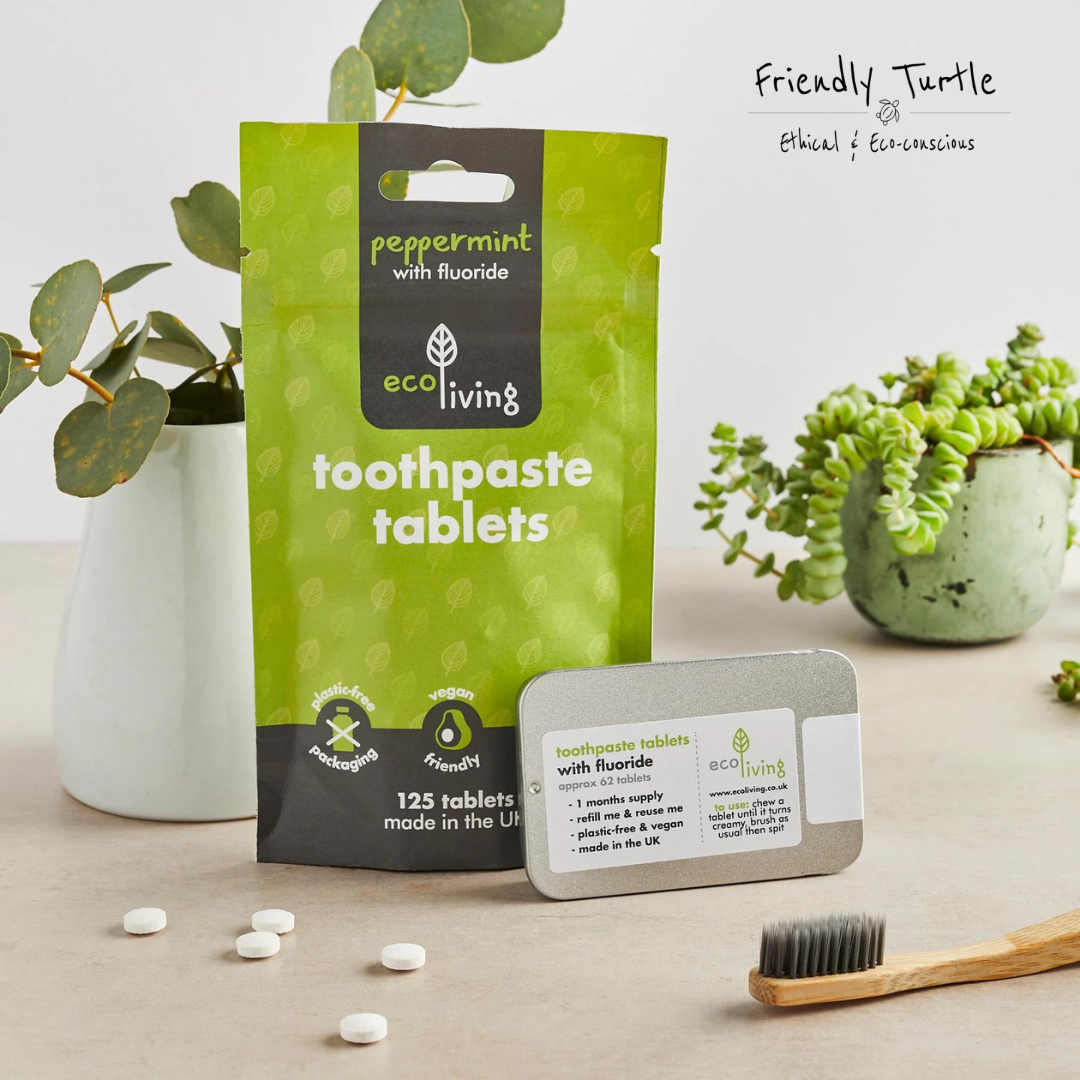 Let's be clear, though. The ancient Egyptians developed a natural toothpaste, too – made of oxen hooves, myrrh, eggshells, pumice and water – but that might not fly today! Maybe if you just took out the oxen ingredient?!
Friendly Turtle's new range of natural toothpaste and dental care products is chemical-free and comes with or without fluoride. These vegan teeth care items are all plastic-free and fulfil the online retailer's zero-waste pledge across all its product lines – comprising over 1,700 eco-friendly toiletries, skincare, and bath products.
Check them out at https://www.friendlyturtle.com/eco-friendly-toothpaste
The company's new dental care products include powders, tablets, and pastes in glass jars – all designed to be gentle on your teeth, mouth, and gums. One of the firm's goals since its inception has been to facilitate the transition away from single-use, unsustainable options to design-led and functional personal care products that don't come at the expense of the environment or compromise your ethical standards.
Both the organic toothpaste and the green packaging markets are growing at over 6% annually, driven by the same trends impacting consumer spending on all personal care products: increased awareness of and concern for the environment, anxiety about the health effects of chemical additives, and the influence of younger generations on social media touting the benefits of 'clean' living. In addition to ethical and environmental issues, experts concur that there are medical reasons to avoid additives like parabens and artificial sweeteners, which are typically absent from natural toothpaste.
Friendly Turtle offers 30 different dental care products for adults and kids. Among them are natural Ecoliving toothpaste tablets if you're looking for a convenient dental care solution when you're on the go. Made in the UK, these toothpaste tablets come in a refillable tin – reducing waste in the bathroom, while allowing for zero waste when on holiday or travelling. 100% vegan and cruelty-free, they are available with fluoride or fluoride-free.
Another popular product is the Charcoal Toothpaste from Georganics. Made entirely from non-toxic ingredients like organic coconut oil, olive oil and cocoa butter and flavoured with organic peppermint oil, the activated charcoal powder helps remove plaque and regular stains. The naturally foaming formula comes in recyclable and compostable cardboard tubes.
Friendly Turtle works with a wide range of carefully chosen partner brands and promotes products that they believe will benefit the planet through their purchase and continued use.
One customer recently commented: "Lovely toothpaste tablets. Much tidier in my bathroom and much less waste of time struggling to get that last bit out and toothpaste because you know there is still some in there. Thank you."
Of the more than 1,400 reviews online, almost all customers are thrilled with the company's products, the fast shipping, and their friendly – naturally! – customer service.
Go to https://www.friendlyturtle.com/eco-friendly-toothpaste and see for yourself the vast range of beautifully designed and eco-friendly products on offer.