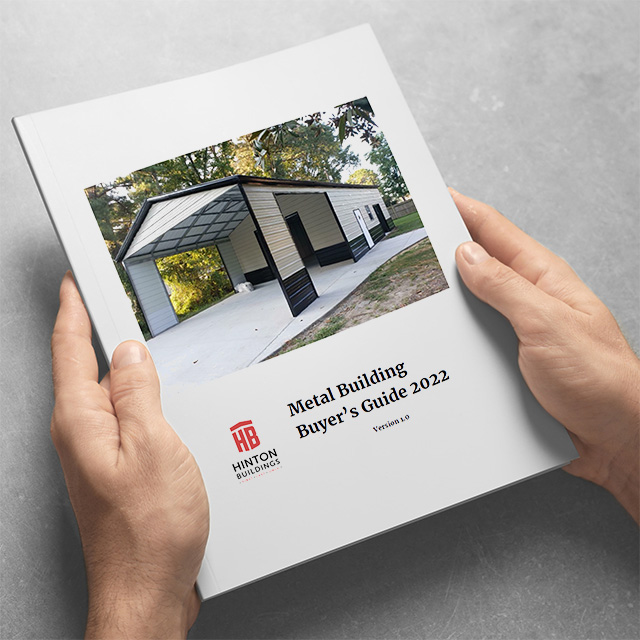 Finding a metal carport or garage that ticks all the boxes can be difficult. So why not customize one yourself with a little help from Hinton Buildings?
The Princeton, NC portable building expert's Metal Building Buyer's Guide provides all the information you need regarding its fabrication process for garages, carports, and other portable metal buildings. The 24-page guide includes three units discussing preliminary considerations, planning and measuring, and designing the structure.
Go to https://www.hintonbuildings.com/metal-building-buyers-guide-unit-1/ to find out more.
Cars, trailers, motorcycles, and boats are expensive investments, which makes it vitally important that you protect them from the elements, vandalism, theft, and other potential hazards. While traditional garages usually provide adequate protection, if you have multiple vehicles or oversized vehicles, additional storage space may be necessary. Hinton Buildings provides this additional storage space with its custom metal carports and garages.
The Metal Building Buyer's Guide explains the design and manufacturing process for its custom metal buildings. In Unit 1 of the guide, Hinton Buildings shares a few of the factors you need to consider when getting a metal building. These include everything from purpose and budget to maintenance costs and home value.
Unit 2 recommends the planning and measuring steps you should take to prepare for your new custom metal building. These involve identifying the dimensions of the vehicle to be sheltered and how much space will be required to comfortably enclose it. In this section, Hinton Buildings also provides a series of formulas and calculations you can follow to determine measurements.
The last unit, Unit 3, shows you how to use Hinton Buildings' 3D Metal Building Designer software to create your custom structure. This tool allows you to input your desired style, roof, size, accessories, and colors, while simultaneously getting a real-time mock-up of what your custom structure will look like.
You can download the Metal Building Buyer's Guide at the website above. For quotes on custom metal buildings, you can send your designs to Hinton Buildings through the 3D Metal Building Designer software.
A satisfied customer said: "Hinton Buildings is great to deal with. I needed an addition to my existing building, so I called up the Hinton team and customized my own structure. The 3D Metal Building Designer allowed me to visualize the addition, which was really useful. This is truly a wonderful business."
In addition to metal buildings, Hinton Buildings also provides wooden buildings. They are an authorized dealer for Old Hickory Buildings, a leading provider of portable storage buildings, sheds, and barns, with over 30 years of industry experience. They have a wide inventory of existing buildings, but also offer their customization services for wood structures.
About Hinton Designs
A family-run business, Hinton Designs has been fabricating custom portable buildings, garages, and carports since 2015. To date, they have designed and manufactured structures for over 5,000 residents and businesses across North Carolina, South Carolina, and Virginia.
Get a custom metal building you can be proud of by visiting https://www.hintonbuildings.com/metal-building-buyers-guide-unit-1/