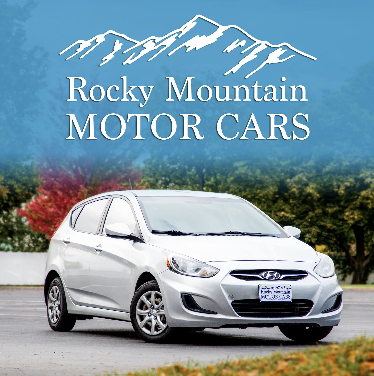 You need a car. Badly. But you're scared of the death spiral of doom: bad credit equals criminally high interest rates, meaning you may have to choose between your daughter's birthday gift and paying down your debt.
Not at Rocky Mountain Motor Cars, you won't.
All autos are available for sale to people with poor credit or those who need to take advantage of the company's excellent - and fair - in-house financing program.
Check them out at https://www.rockymountainmotorcars.com
Rocky Mountain Motor Cars, which maintains a large selection of pre-owned units in its inventory - including used cars, trucks, vans, sedans, SUVs, and family crossovers, now conducts rigorous pre-sales inspections on all vehicles at its on-site repair shop, staffed by qualified mechanics. Moreover, the company guarantees that all of your on-time payments will be reported to the top three major credit bureaus - thereby improving your credit score.
Over 15% of Americans have very poor credit or a FICO score of between 300 and 579. An even higher percentage are denied credit every year or offered unfavorable terms. The consequences of bad credit are particularly acute for drivers in Utah, whose only form of interstate transportation - except for a thrice-weekly Amtrak train - is by car or plane. With very few opportunities to use bus or rail within the state, individuals with bad credit are typically forced into car-leasing ownership arrangements they cannot afford, due to the very high interest rates.
While the majority of the "Buy Here Pay Here" Utah car lot dealerships only report to the credit bureaus when customers miss their payments or get their cars repossessed, many also charge interest as high as 35-40%. Rocky Mountain Motor Cars guarantees you the best used car in-house financing interest rates available statewide.
You can learn more at https://www.rockymountainmotorcars.com/buy-here-pay-here-ogden-utah
Furthermore, the dealership will work with you to help secure your credit approval and also to loan any extra money needed, taking into account the size of the initial deposit, the customer's work income, and your credit.
The dealership, which prides itself on its superior customer service, aims to help good people in unfortunate situations improve the quality of their lives by providing a used car program that will help them enhance their credit score while driving an affordable and reliable automobile.
One customer commented: "I've bought 2 cars with these guys and they have always treated me well. I love the warranty and the easy financing. They don't hesitate to fix issues you find with the car in the test drive and they are straight up. Carl is great and made me a fantastic deal on my trade in. Highly recommend this place."
How often do you see a used car dealership with that kind of glowing review across the board - hundreds of them, just for the Ogden location alone!
Go to https://goo.gl/maps/2vtbysApYVbqAmRZ8 or https://www.rockymountainmotorcars.com/applications or call 801-399-1799 and put yourself back in the driver's seat today!