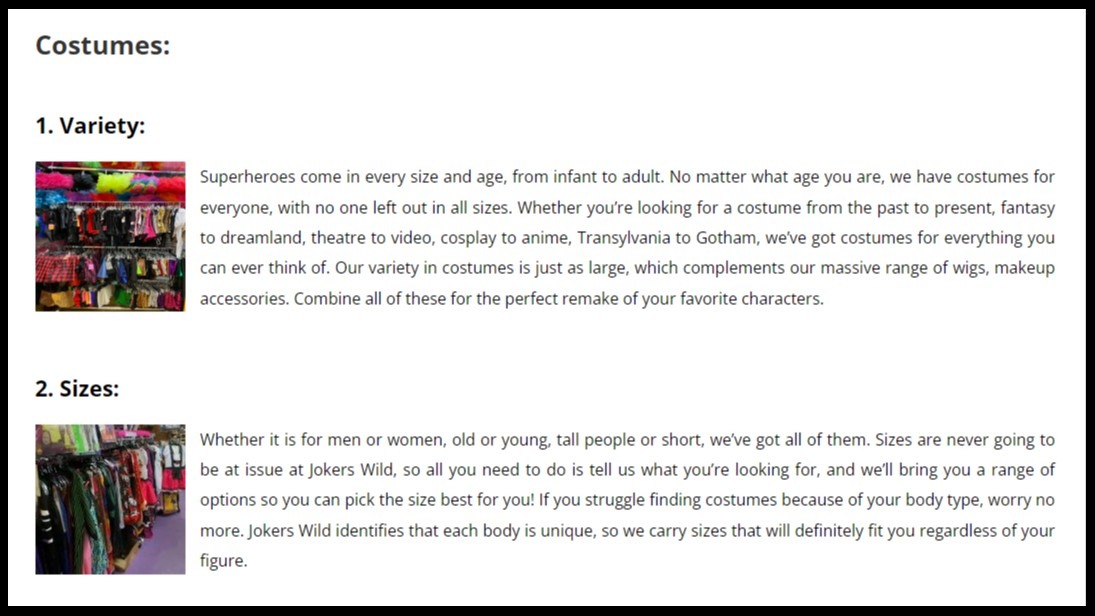 Whether you need a unique Halloween costume or something to wear to a fancy dress party, The Joker's Wild has you covered!
The North Reading, MA Halloween costume and accessory shop has a selection of costumes available for men, women, and children at their two retail locations. If you need help finding a costume, they also offer a variety of services and amenities to make it easier for you.
Go to https://thejokerswild.com/5-reasons-to-come-to-jokers-wild-for-costumes to find out more.
According to the National Retail Federation, Americans spend roughly $3.6 billion on Halloween costumes annually. While the majority of these sales take place in October, the growing popularity of costume parties, cosplay events, and comic book conventions has led to a surge in costume sales throughout the rest of the year. As a result, costume suppliers like The Joker's Wild now offer their collections year-round with no limitations.
The two main reasons why you should get your costumes from The Joker's Wild are the variety and sizes. Whether you're looking for a costume from the past or present, fantasy or reality, their options cover a wide range of genres. Moreover, their costumes are inclusive, accommodating all genders, body types, and ages.
In addition to costumes, The Joker's Wild also provides you with access to private dressing rooms and professional customer service. You can try on single costumes or bring in a handful of costumes at once; The Joker's Wild staff stays nearby to grab other styles and sizes or provide feedback. They can also help customize your selections by adding accessories.
"We stock hundreds of items that you can find a use for and enjoy any time of the year," said a spokesperson for the company. "Our mission is to provide all levels of costumes, accessories, and novelty joke gifts to the general public, not just at Halloween but for life."
To further assist you in your search for a costume, The Joker's Wild has put together some holiday-themed costume guides for you to reference on their website. The guides suggest items suited to specific holidays, such as St. Patrick's Day, Independence Day, Mardi Gras, Christmas, and Easter. They also have suggestions for themed parties, such as Hippy, Disco, Western, Tropical, Sports, and more.
You can browse The Joker's Wild's entire costume collection by visiting one of their two retail stores. Their costumes are available for both purchase and rental.
If you want to check the stores out before visiting, The Joker's Wild provides comprehensive video tours on their website, showcasing the different categories of costumes and accessories they carry and the layouts of the stores.
About The Joker's Wild
With locations in North Reading and Danvers, The Joker's Wild has been serving New England since 1969. In addition to costumes, they also sell accessories, headwear and hats, masks, makeup, and wigs.
Visit https://thejokerswild.com/5-reasons-to-come-to-jokers-wild-for-costumes today and you'll have all eyes on you at any fancy dress party!