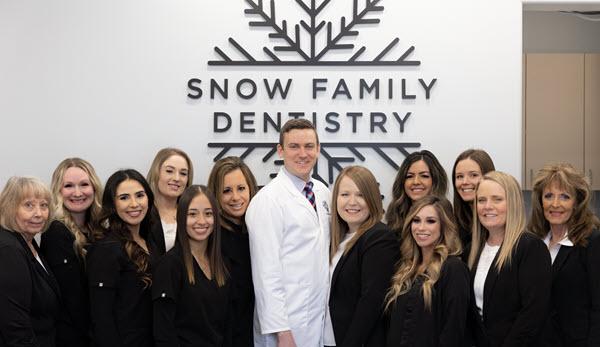 When you stop to think about it, it seems pretty strange that we used to routinely turn kids' mouths into small metal factories, doesn't it?!
Snow Family Dentistry, a 5-star dental practice, offers both teens and adults Invisalign braces - removable and clear coverings made from flexible thermoplastic that fit snugly over your teeth. Crowding and spacing problems, as well as some moderate biting issues - such as overbite, underbite, and crossbite - can all be treated with clear aligners. Invisalign offers you a more convenient and comfortable option than metal brackets for teeth straightening.
You can learn more at https://www.snowfamilydentistry.com/services/cosmetic-dentistry/invisalign-mesa-az
The practice, led by Doctors Paul and Dallin Snow, now offers these nearly invisible braces as a solution for individuals who want healthier, even smiles without drawing attention to their orthodontic work from peers and colleagues - whether at school or at the office. Your teeth will gradually move into their ideal positions as a result of wearing the aligners, eliminating the need to always fiddle with and tighten obtrusive metal wiring.
The American clear aligners market is growing at over 15% every year, driven by technological advancements in dental treatment and the growing acceptance of cosmetic dentistry for achieving personal aesthetic goals that lead to increased self-confidence. Product developments are ongoing: for example, in February 2022, Align Technologies introduced updated Invisalign system modules, which include the new Invisalign Smile Architect to further optimize tooth movement and predictability.
Snow Family Dentistry recognizes that clear aligners offer an appealing alternative to conventional metal braces for both teens and older working adults - because they are relatively discreet and can be removed as needed. Straighter teeth can also result in improved digestive health and better oral hygiene, making it easier to brush and floss. Moreover, clear aligners can lessen the risk of cracked or chipped teeth, while minimizing stress on your jaw.
Invisalign and other orthodontic treatments offered at the practice can help with snoring and sleep apnea as well. Snoring and sleep apnea can be caused by TMJ (temporomandibular joint) and misalignment issues, meaning a more even bite and straighter teeth can often help alleviate those symptoms.
Snow Family Dentistry provides restorative, preventative, and cosmetic dental services as well as emergency care. The practice endeavors to make all patients feel at ease, and offers a "relaxation area" with massage chairs and a selection of blankets, cushions, and music to listen to while receiving treatment.
One patient commented: "Best dentist I have ever been too. Make you feel so welcome and comfortable and explain everything. They actually care about the health of your teeth and don't just try to upcharge the services. Very impressed."
If dentistry were an Olympic sport, this practice would probably be competing for the gold medal. Over 300 five-star reviews in total - and no dissenters!
Check out https://www.yahoo.com/now/invisalign-mesa-az-updated-snow-074500855.html and learn more about how you can start improving your dental health - right now!