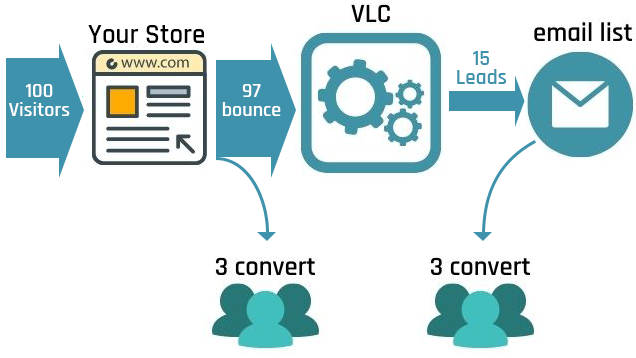 Stop hoping that traditional methods for website traffic growth will improve your business, and get the ROI you deserve with a little help from DefDevice!
The digital marketing agency's innovative VLC Lead Capture System helps increase your business's ROI by rapidly growing its email list, conversions, and sales. The unique VLC Lead Capture System generates 150 leads out of every 1000 site visitors.
Go to https://defdevice.com/vlc-ecommerce-conversion-booster to find out more.
If you run an e-commerce business you probably spend a lot of time and money trying to drive traffic to your website. But according to DefDevice, at least 97% of website visitors leave sites without buying a product or filling out a form. While everyone's browsing habits are different, most visitors typically leave because of other distractions, a need for more research, or reluctance to commit.
DefDevice's VLC Lead Capture System turns these lost visitors into a list of contacts that your business can market to. To do this, the system looks for identifiers of anonymous site visitors. When a database match is found, the visitor's full name and email address are provided to your business. From there, personalized email offers are sent to the visitor to try and convert them into a customer.
A normal e-commerce website usually gets 20 to 30 leads from every 1,000 visitors. With DefDevice's VLC Lead Capture System, your business can capture anywhere from 100 to more than 250 leads, which is 12 times more than traditional methods. The initial email campaign alone typically increases conversion by 10 to 20% in the first week.
DefDevice has helped many clients get the results they were looking for. Recently, they have helped businesses in the wine, food, health and wellness, and fashion sectors grow their conversion. "With the VLC Lead Capture System, we saw 10 times the ROI on Black Friday," said one clothing retailer. "We ran two other lead generation campaigns on social media. Client capture records were on average 85% less expensive with VLC and we did not get a single conversion from any other source."
In addition to smaller businesses, DefDevice has also helped industry heavyweights such as Benq, Siemens, Glo, and Bosch improve their lead generation and conversion.
To deliver a reasonable ROI, DefDevice requires that your business have at least 10,000 unique store visitors per month from within the U.S. (as the system does not work outside the U.S.). Technical set-up involves adding a script to your website/landing pages and takes as little as 24 to 36 hours. DefDevice asks that you upload your existing customers to the database, so duplicate leads aren't generated.
If you're interested in integrating DefDevice's VLC Lead Capture System into your e-commerce business, simply contact them through the form on their website. If it all sounds too good to be true, they will even offer your business a complementary test where they will capture 250 records at no cost.
The VLC Lead Capture System is compliant with all email collection and marketing laws. The system is enterprise-ready, meaning it's designed to meet the multifaceted needs of your e-commerce business and is easily scalable as your business grows.
About DefDevice
DefDevice is a digital marketing agency founded by German web designer and marketing expert Dano Faulk. Since 2017, it has helped businesses create tailor-made marketing strategies that set them up for optimal future growth.
Up your conversion today by visiting https://defdevice.com/vlc-ecommerce-conversion-booster