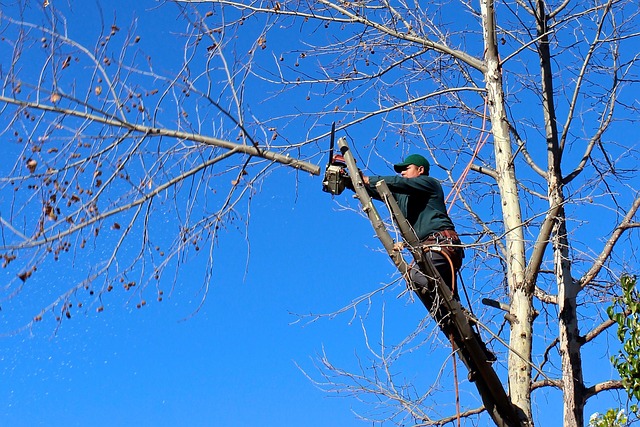 If errant tree branches are overrunning your yard, Ryno Lawn Care has the fix!
The Lewisville, TX residential landscaping company offers its winter tree trimming service to get your yard in tip-top shape again. The company has been providing exceptional lawn care services to Denton County and the greater North Texas area since 2009.
Go to https://www.rynolawncare.com/landscaping-services/tree-shrub-trimming/ to find out more.
Ryno Lawn Care recommends that you get your trees trimmed once per year, preferably during the winter when trees are most dormant.
Tree trimming is the process of thinning out dead, diseased, and overgrown branches to keep a tree healthy and maintain its shape and appearance. The process is best done in the winter because there are far fewer bugs and lawn diseases threatening to invade and infest trees. Damage to flower beds at the base of trees is also minimized during the winter, as the ground is usually frozen solid.
By removing errant branches, trees can more easily get the moisture, nutrients, and light they need to thrive come springtime. They also don't have to divide their energy among so many branches, meaning any benefits the tree receives can be more concentrated. Moreover, ridding trees of unnecessary limbs protects properties from potential damage caused by harsh winter conditions.
Before starting any job, Ryno Lawn Care's team of trained professionals will survey your yard to determine its specific needs and the best treatments. From there, the staff uses state-of-the-art equipment to ensure the job is done safely and efficiently. Upon completion, staff will provide you with watering and maintenance guidelines, and if needed, schedule further appointments.
In addition to tree trimming, Ryno Lawn Care LLC also offers fertilization and weed control, lawn maintenance, sod and mulch installation, flower bed clean-up, shrub trimming, leaf removal and more. The company is licensed, insured, and has an A+ rating from the Better Business Bureau.
Ryno Lawn Care also operates a weekly blog on the company website providing lawn and landscaping tips and how-to guides. Recent posts have discussed topics including, Best Evergreen Shrubs and What Can I Put in My Backyard Instead of Grass.
Ryno Lawn Care, LLC has been servicing North Texas for over a decade. Their full-time customer-focused office staff is available to answer questions and assist in scheduling appointments. Their office is open from 8:00 a.m. to 5:00 p.m. Monday through Friday.
A satisfied customer said: "So happy I switched my lawn service to Ryno Lawn Care. Easy and efficient client on-boarding and every interaction with the team is professional and responsive. Love they query for customer feedback on how the team is performing. High quality and always timely execution of the services - my yard always looks AMAZING. Highly recommend!"
Leave the tree trimming, pruning, and thinning to them by visiting https://www.rynolawncare.com/landscaping-services/tree-shrub-trimming/