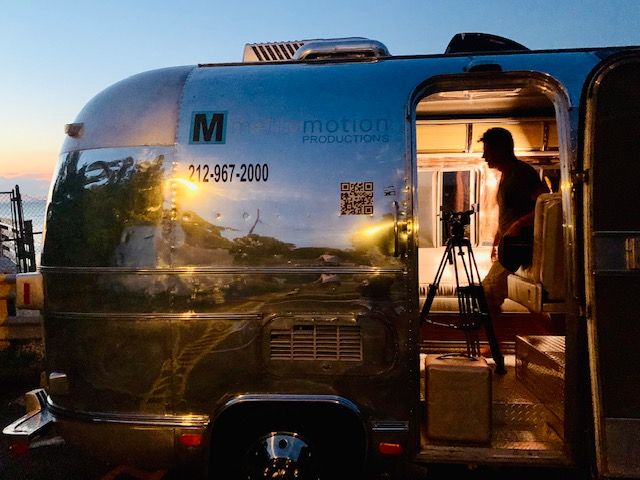 You might wonder why the 1975 Argosy is dubbed the "Lovestream" - but just look at the list of top singles that year! Even by the sugary standards of pop music, that was an especially lovey-dovey year. Good thing those RVs have such fantastic sound systems!
Daylight Studio now provides fully-outfitted Airstream RVs from 1975, 1979, and 1994 for event-specific or longer-term rental use. Founded in 2019, the firm allows clients to use fully-functional and well-appointed, vintage RVs to host a wide range of outdoor promotional events.
Check them out at https://www.rvairstream.com
The company now offers these retrofitted Airstreams, ranging in length from 20' to 36,' both for commercial use and as props, green rooms, and celebrity motor homes for the television and film industry. Each RV comes complete with a kitchen, air conditioning/heating, bathroom and shower, and a professional driver.
Few things scream "American lore" quite like the Airstream, a 90-year-old symbol of wanderlust, transience, and the spirit of the road. Also known as the "silver bullet," due to its iconic shape and gleaming aluminum skin, the Airstream has developed a cult-like following and ownership base that includes celebrities like Tim Burton and Sean Penn. Airstreams have been featured in dozens of movies and TV shows since the 1980s. Of the 400 competitor companies born in the immediate wake of Airstream's debut in 1932, only Airstream remains today.
Daylight Studios recognizes the allure and the practicality of their fleet of Airstreams. For example, you can promote new product lines in different parts of the city and let consumers sample your goods as part of a product launch. The well-equipped campers can also be used as beauty parlors and hair salons in shopping centers, parks, streets, and convention centers - or as backdrops to and staging areas for wedding parties, photoshoots, and festivals.
If you or someone you know is getting married, an Airstream is a fantastic prop and prep room!
The company's smallest vehicle, the 1974 20' Argosy "Lovestream" accommodates five people and has a kitchen and minibar to go along with its state-of-the-art sound and lighting system. Its cousin from 1979, the Excella Class A - complete with vintage furniture - can fit nine people.
Daylight Studio's 36-foot, 1994 Airstream Classic "BeautyStream" features a state-of-the-art sound and lighting system, kitchen and minibar, bathroom with shower, a security system, a polished exterior finish, and 5 makeup and hair stations. With telescopic hair washing sinks and removable outdoor sinks, it functions perfectly as a mobile beauty salon.
"Our aim, quite literally, is to make customers feel at home - even when working and on the road," said a company spokesperson. "Our self-contained Airstreams are not only one-of-a-kind showcases, but they are also multi-functional offices on wheels."
Make yourself, your friends, and/or your customers happy. Rent an Airstream - just remember, it's a club of admirers, not a cult! Really!
Go to https://www.rvairstream.com and imagine your possibilities!