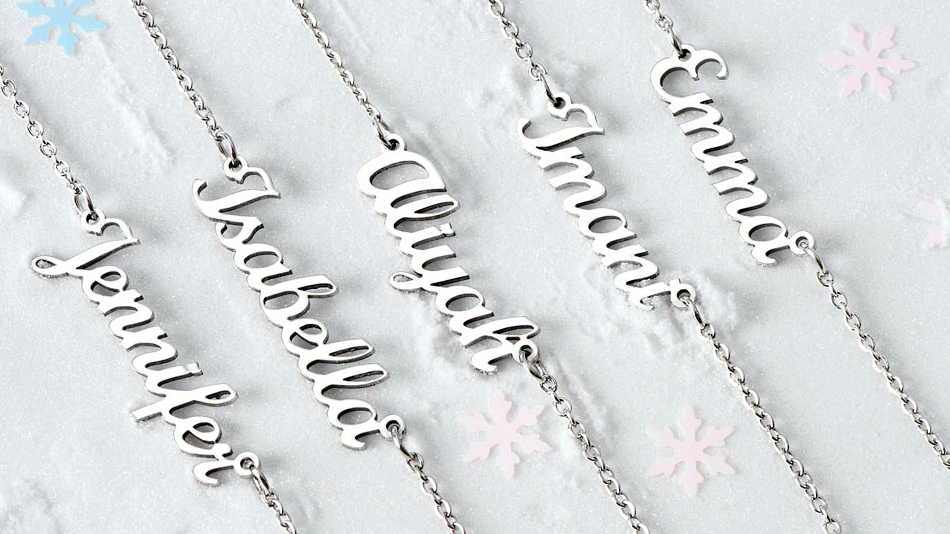 Finding the perfect gift for a friend or family member is difficult, but the perfect gift does exist—it's a custom name necklace from Jewelry Gifted!
That's right! The online jewelry store's personalized, handcrafted necklaces can be designed to feature the name of the person you're buying for. The name is written in cursive and can be up to 10 characters long.
Go to https://jewelrygifted.com/collections/name-necklace to find out more!
Jewelry is a gift made for any occasion. Whether a holiday, anniversary, or birthday, a piece of jewelry is a unique and versatile way of commemorating a special moment. Jewelry Gifted's name necklaces are not only a stylish gift, but also make the moment more personal due to their customization options.
The name necklaces feature a cursive name suspended from a 16" to 18" adjustable cable chain with a 9mm lobster clasp. You have a choice between two finishes for the necklace—polished stainless steel or 18K yellow gold.
You also have two choices for gift box options. The standard option is the soft touch gift box. If you want to elevate the presentation of the necklace, a mahogany-style luxury gift box with an LED spotlight is available for an additional fee.
Each name necklace also comes with a decorative insert. The insert identifies who the gift is for and is inscribed with a heartfelt message.
"Our custom name necklaces are a beautiful way of honoring someone special and giving them something that they can keep forever," said a spokesperson for the company. "Not only are they unique and stunning pieces of jewelry, but they also serve as reminders of how much you care about them and the bond that you share."
Besides just commemorating a special occasion or honoring someone you love, the custom name necklaces also provide other benefits. Because of the customization option, you can be certain that each piece is unique and one-of-a-kind. The necklaces also give whoever is wearing them a chance to truly show off their identity and personality. They also make great family heirlooms, which can be passed down from generation to generation.
If you're interested in purchasing a name necklace you can do so by visiting the Jewelry Gifted website. Once there, you will be prompted to enter the desired name for the necklace, select its finish, and choose the gift box option you prefer. The fabrication process typically takes 1 to 2 days, and the item ships immediately thereafter.
All Jewelry Gifted name necklaces are currently on sale for a limited-time price of $56.00, which is 50% off the regular price. Jewelry Gifted ships internationally, and has a range of delivery options for you to choose from.
About Jewelry Gifted
Jewelry Gifted has a range of jewelry options for different occasions and recipients. In addition to name necklaces, they also carry pendant necklaces, chains, and earrings.
Visit https://jewelrygifted.com today and get a piece of jewelry that will last forever!