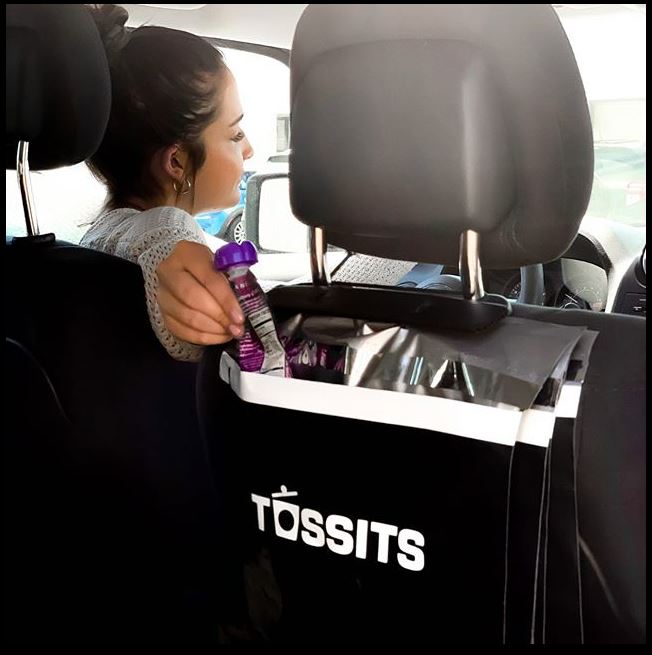 Do you break out in a cold sweat at the thought of your kids eating food in the back seat of your car? Don't tell them to toss their litter out of the window – tell them to toss it into Tossits!
With Tossits, you can keep your vehicle's interior free of unwanted garbage. If you have young children, you'll find Tossits an ideal solution for retaining a clean car – your kids can easily dispose of their litter in these convenient hanging bags.
Click https://tossits.com/shop now!
By popular demand, Tossits are now offered in larger bag variations – allowing you to store more waste and litter for added convenience. Improving the product's capacity and durability as part of an ongoing effort to optimize its usage, Tossits describes its bags as suitable accessories for camping trips as well as car rides.
With summer approaching, it's no surprise you're looking ahead to your upcoming road trips to popular vacation spots accessible by car. Part of the journey, especially when your kids are present, usually involves general messiness and litter disposal while traveling. As such, Tossits is a must-purchase as an essential addition to your vehicle.
Seeking to get rid of the stress associated with unsightly clutter inside your car, Tossits brings its disposal trash bags to you in order to help you maintain a tidy interior. The bags are designed to prevent leakage and unpleasant odors, sealable with an adhesive strip after its full 2-gallon capacity has been filled with trash such as wrappers and other waste.
You'll further benefit from the product's compactness. When not being used, you can store them with ease in your glove compartments or seat pockets.
One satisfied customer said: "We travel a lot to see our families in other states and commute to work – these are a must. We never have to worry about grabbing a grocery bag to clean out our vehicle on the weekend. When it gets full, we simply toss it and there is another ready to go."
Accompanying the recent announcement, Tossits moves to improve access to its eminently useful car garbage bags. Order your packs online in either one or three-set bag variations from several sources, including Amazon, Tractor Supply stores, and the company's official website.
Your car would thank you if it could! Check out https://amzn.to/3g9Jz1j to order Tossits in quantities that suit your needs!