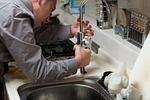 If your plumbing system has been acting strange in recent weeks, it's not that surprising. The super cold temperatures in December would have given pipes a really hard time.
But worry not! The experts at S & D Plumbing can quickly assess if you have a leak, and put things right again.
Gone are the days when a leaking pipe meant tearing your home apart because this family-owned business uses some of the latest leak-detection technologies. They also have decades of experience in the industry and can repair or repipe water lines and drains, reroute water, and even replace tunnel drains.
Go to https://sanddplumbing.com for more information.
Leaking pipes can actually cause a huge amount of damage in your home. If you suspect you have a problem, S & D Plumbing can prevent things from getting worse. They've been helping local homes and businesses since 1980, and they'll always give you honest up-front pricing.
According to the Texas Division of Emergency Management, much of the state experienced below-freezing conditions for between 3 and 5 days in December. The low temperatures made it more likely that your water lines and pipes would freeze. As frozen water expands, a high degree of stress can be exerted on pipes, causing them to crack or burst.
As S & D Plumbing explains, leaks are not always easy to identify, and the company's enhanced services offer a rapid and accurate way to check. The company suggests several signs that may indicate a leak has developed, such as higher water bills, patches of discoloration on your ceilings or walls, damp spots on your carpets, or the sound of water running.
Detection methods now used do not require significant disturbance to your home or the surrounding property. S & D Plumbing deploys a variety of advanced technologies, including moisture detection units, audio equipment, and/or very small cameras.
In operation since 1980, S & D Plumbing has established a reputation for honesty, integrity, and strong customer service. In addition to leak detection and repairs, the family-owned and operated company offers cleaning of clogged drains and sewers, along with water heater repair and installation services.
One homeowner recently stated: "S&D saved us a bunch of money and, more importantly, a ton of headaches and unnecessary work. The team was great to work with, and I really appreciated their common-sense approach."
Prevent winter damage from getting worse, with advanced leak detection services from S & D Plumbing.
Contact the team today. Check out https://sanddplumbing.com so you can learn more.