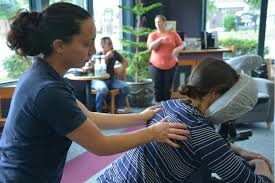 Need to keep morale up in the workplace? How about a massage?
A Better Body offers a chair massage therapy specifically designed to provide calm and relief for the physical and mental tension usually experienced in the workplace.
As an employer in Verona, Wisconsin, this gives you a chance to provide a proven means of relief for your employees while improving productivity and reducing general workplace anxiety.
Find more details here https://www.madisonbetterbody.com
The company's corporate chair massage therapies come in light of results of a recent American Massage Therapy Association study, which found that 43% of individuals who receive massages seek this type of therapy not only to alleviate physical pain but also to relax and improve focus.
A Better Body's chair massage therapies are customized to meet each of your workers' individual relaxation needs while soothing identified areas of tightness.
The center's therapists apply advanced techniques that help remove energy blocks and tension while providing a completely relaxing and pleasant experience for your team. Its experts use advanced equipment designed for your worker's comfort throughout the session and focus on important stress areas like the back, shoulders, neck, arms, and hands.
Because your employees remain fully clothed throughout, therapy sessions can be carried out in your conference room, office, or any preferred location in your office. The center provides its own equipment, including a portable massage chair.
A session usually lasts 60 minutes and can be carried out on a one-time basis or several times based on your schedule. You can also opt for additional therapies like aromatherapy, hot towel sequences, exfoliating foot scrubs, and eco-fin hand treatments.
About A Better Body
Founded in 2012, A Better Body provides therapeutic massage, skin care, and various other body health and wellness services to clients in Madison, Wisconsin, and surrounding areas, including Middleton, Waunakee, Shorewood Hills, Nakoma, Verona, Fitchburg, West Madison, Westport, and other communities. Its founder, Kaitlin Rohowetz, is a licensed massage therapist and certified health coach with over 12 years of industry experience.
A representative said, "Here at A Better Body, we believe in healing and taking care of your body naturally. Whether your goal is to maintain a healthy body or get some advice on where to begin your journey to wellness, we are here to help."
It's time to give those aching areas a little TLC from the skilled massage therapists at A Better Body. Call them at 608-640-3646 to help your employees get that brand-new body feeling today!
Visit https://www.madisonbetterbody.com to find out more!