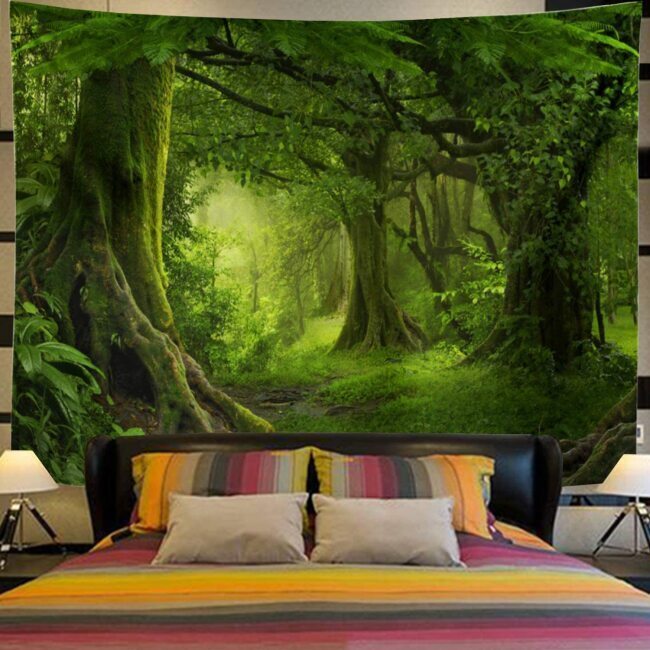 Want to add some beautiful and inspiring artwork to your walls? Check out Kingsy Store's new collection of fabric tapestries!
The emerging online lifestyle and household accessory store has just launched nature-themed wall fabrics for contemporary and on-trend interior styling.
The range includes a beautiful forest scene rendered on high-quality soft polyester. The piece is part of the company's eye-catching collection of artful tapestries – the ideal purchase whether you're a homeowner, renter, designer, or just looking for a gift idea for the holiday season.
Bring a taste of nature into your living room with Kingsy Store's forest trees tapestry. More details at https://www.kingsystore.com/product/virgin-nature-scenery-forest-tapestry-green-tree-in-misty-forest-wall-hanging-deco
The hanging wall fabric comes with complimentary shipping for all orders within the US, customer support, and a 30-day returns policy. The drape is available in a variety of sizes, from a medium version measuring 150 cm wide by 130 cm high right up to an extra large model at 235 cm x 180 cm so you can find an option that best fits your space.
As well as providing an aesthetically-stylish and inspiring piece of art, nature scenes have been shown to have psychological health benefits, reducing stress, promoting calm, and offering a sense of connection to nature, even indoors.
Kingsy Store's nature tapestry depicts ancient trees in a misty woodland, evoking a sense of mystery and other-worldliness. Combining hues of deep green and woody brown, accented by the warm yellow light of the sun beyond the trees, the piece draws you in with an expertly-rendered sense of depth and perspective.
As well as making a striking piece of wall art, the tapestry may be used in a variety of contexts and can be as easily fixed to your ceiling, used as a bedspread or bed sheets, tablecloth, or curtains. Care and maintenance are easy to manage with the fabric able to be both hand or machine-washed at a cold temperature on a gentle cycle.
In addition to the forest trees tapestry, Kingsy Store offers other designs including a 3D snowy landscape set amid a galaxy of stars, a fairy tale wood, an orange mandala piece, and an avenue of Japanese cherry trees.
The wall fabrics join the company's comprehensive range of household goods, gadgets, and lifestyle products. These include LED motion-activated sensor night lights, rear-view cameras for cars, watches, lamps, tablet covers, gardening accessories, Bluetooth headphones, pet collars, kitchen equipment, and fitness gear. Whatever you need, you'll find it here!
A spokesperson says, "Kingsy Store is based in the USA and founded in 2021 with a focus on securing products for everyone all in one place at everyday low prices. We work around the clock to find, source, and ship to you the most innovative products without spending days researching on your own."
For more info, go to https://www.kingsystore.com/product/virgin-nature-scenery-forest-tapestry-green-tree-in-misty-forest-wall-hanging-deco
Allow yourself to be transported into another world from the comfort of your own home. Order your mystical forest tapestry from Kingsy Store today!