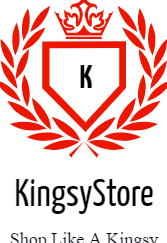 If you think about it, who really enjoys driving from store to store in pursuit of that one item you need, but nobody seems to have? How is that fun?
Sometimes shopping is the worst, but the digital era has turned it all around. Now you can access an entire world of stores with just a couple clicks on your computer, and then sit there in your jammies while you shop like a boss.
Enter Kingsy Store, your one-stop e-comm platform.
Kingsy Store gives you the opportunity to kick off your shoes, enjoy a cup of tea, and browse all the lifestyle and home furniture styles and items you need in one place. Why not shop from the comfort of your own home? It saves time, saves money, and minimizes the carbon emissions that come from heading out in your car.
Find what you're looking for right now at https://www.kingsystore.com/products
One of the reasons online shopping continues to grow in popularity is because of the experience today's businesses are giving their customers. With more features and services being devised and added to optimize your convenience, an estimated 2.14 billion people are now turning to their tech devices to find desired products and services. With a recent expansion in their home furniture collection, the founders of Kingsy Store are leveraging the benefits of e-comm to help you find the furniture products you need at the prices you want.
Kingsy Store is known for its varied collections of unique, globally curated goods. You get informative product descriptions, dimension information so you can ensure the fit is right, and the opportunity to instantly order your products in the colors and sizes you need.
One of the most popular products listed at Kingsy Store is the Atmosphere Sky Air Treatment System. If you're looking for a best-in-class HEPA air purifier with three-way filtration, this is it. The system removes allergens and other contaminants from your indoor spaces, while the particle sensor continuously monitors your room air quality via wireless functionality.
With the Sky Air Treatment System you can ensure 99.99% of airborne particles as small as .0024 microns are removed. This includes over 300 contaminants such as viruses, allergens, bacteria, mold, and mildew. It also removes odors caused by pets, cooking, and smoke.
If you're a student, or your kids are in school and need a functional workspace, Kingsy Store now carries a 55" Gaming Computer Desk/Study Table with Cup Holder and Headphone Hookup. You can outfit your desk with storage shelves on either side, or take out the bottom shelf to accommodate a tall computer tower.
Kingsy Store gives you free shipping on all US orders, a 30-day exchange policy, and 24/7 customer support.
With its recently expanded home furniture collection, Kingsy Store ensures you find the affordable products you're after and the fast and convenient shipping timelines you want for home interior spaces that meet all your needs.
Are you ready to kick back and shop? Visit https://www.kingsystore.com/products to find out more.