These People Ordered Things Online, But They Never Expected To Get These Instead
Online shopping is more convenient as it saves time and money,  but it had shattered the dreams of some unfortunate people and it gave them nightmares. Everyone had a bad experience with e-commerce websites, be it untimely delivery or getting damaged products. There are times when you order something and it never turns up at your doorstep even after 20 days, but the situation can be even worse when you receive the wrong and weird products instead, like stones and bricks.
Let's hear the story of these people whose lives have been ruined by these e-commerce sites. Get ready to see iStone, Samsung Soap, Motorola Biscuit, and many more!
1. This man ordered iPhone 6 plus from Infibeam and he got an iStone- an empty Apple box with a stone inside. 
2.  A girl ordered iPod from Flipkart and she claimed that Flipkart delivered her two useless stones.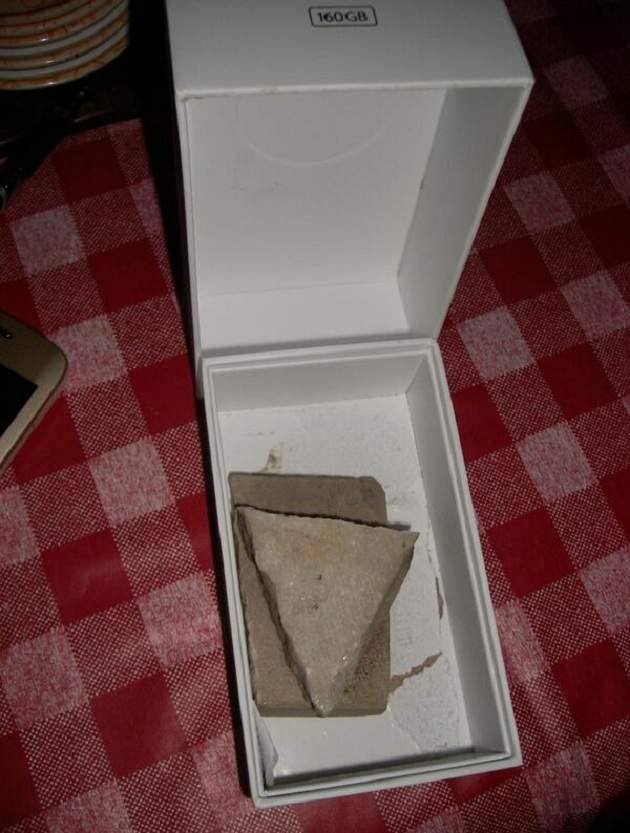 Later, Flipkart apologized on Twitter and took the incident seriously.
3. In 2012, LetsBuy destroyed a man's e-shopping experience by delivering him a stone instead of BlackBerry phone that he ordered.
Fortunately, he received the BlackBerry phone (minus stone) after the incident went viral on Twitter.
4. Recently, a man from Pune ordered 'Moto G' from Flipkart and he got 'Active Wheel' soap instead. He even raised a complaint with Tracking ID and Order ID on Consumercomplaints.in. Sounds valid!
The guy said he got 20% of amount as compensation after he approached Flipkart and shared the news with Indian Express.
5. This time it is '555' washing soap.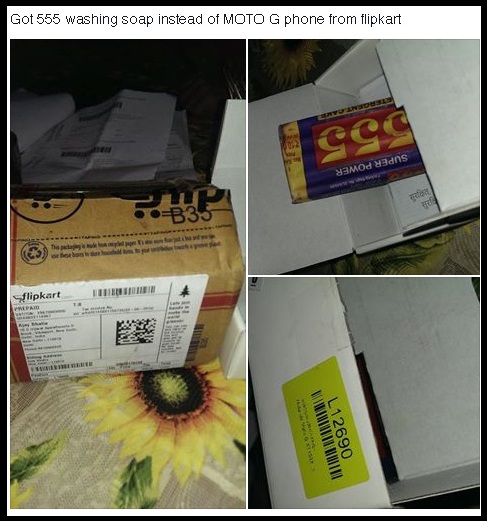 6. And when you get Parle-G instead of your Motorola handset, it gives you the most haunting online shopping experience ever.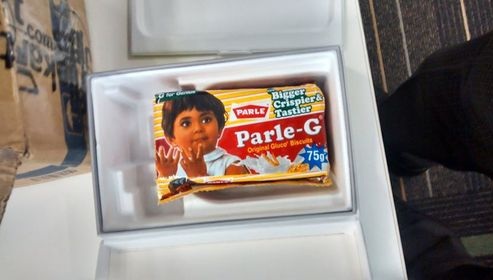 7. And most recently, a man from Mumbai ordered Samsung Duos Smartphone from Snapdeal and he had a shocking moment when he opened the package to find a brick and a bar of Vim soap inside.
After the incident went viral on Facebook, Snapdeal apologized for the goof-up and refunded the man the full amount.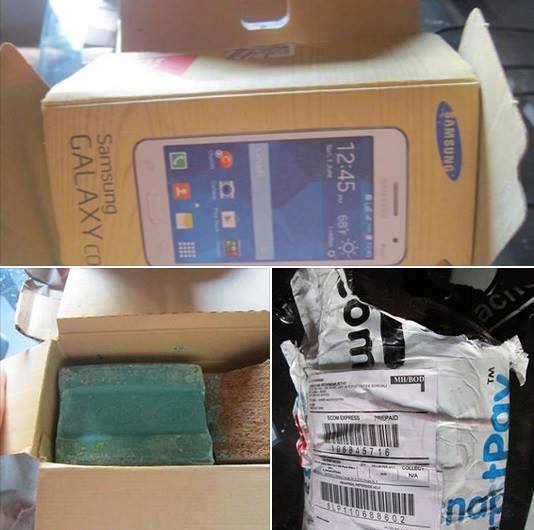 But then the dude got lucky after Hindustan Unilever Limited offered him a surprising gift of real Samsung Core Duo Mobile and two bottles of Vim liquid soap as a kind gesture.
Final score: Man = double win; HUL = 1; Snapdeal = 0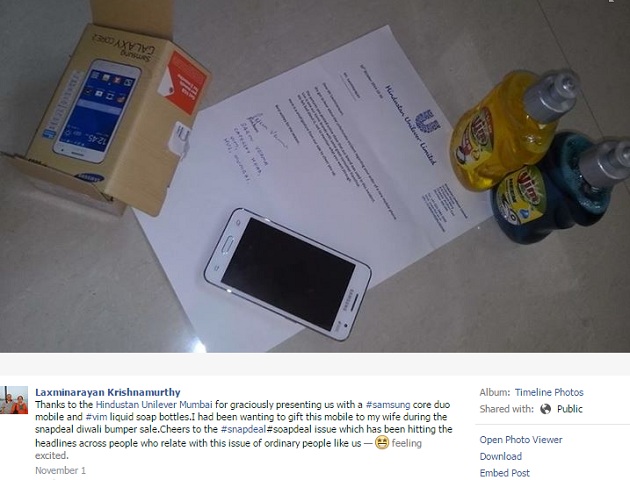 8. And here is the worst and the funniest of all. In 2013, a woman purchased a pair of shoes from Snapdeal and she got two coconuts inside the package. Yes, these are real coconuts!
Plot twist: What if all these people are just falsely claiming? And what if all these stories are just clever marketing strategies by electronic commerce companies? Well, some of the complaints sound little suspicious, but many of them seem to be true as we have heard many similar stories on the internet.
Conclusion: Always be careful with the discount pricing scams and frauds by these shopping websites. And if you have ever been cheated or had the same horrible experiences, please share with us in the comment section below.