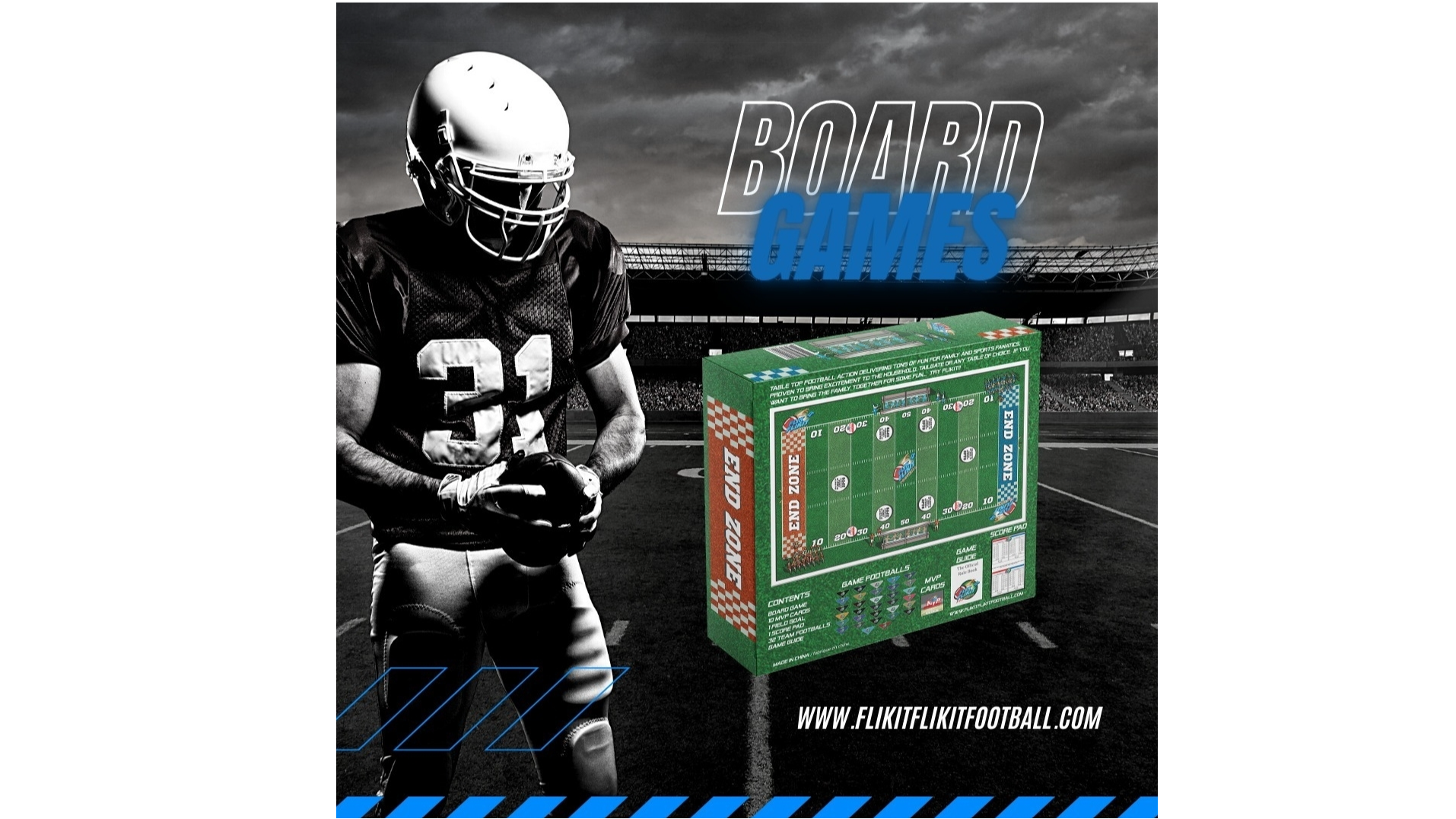 Move over charades, there's a new holiday favorite in town - and it's game time! Now you can go head to head, using precise finger strength and flicking action to score touch down after touch down. Bring the whole family together with a game of FlikIt FlikIt tabletop football.
So if you're tired of sitting on the sideline? Your fingers are itching to get on the gridiron? Then it's time to get you in the game. Get yours at http://www.flikitflikitfootball.com
Launched just last year, FlikIt FlikIt is based on the kids' game "paper football". You know, the one you used to play in school, where you battled for bragging rights by flicking a triangular paper "ball" at an opponent's goal posts? Yeah. It's that game, but next level. Two endzones, sidelines, power-up spots, and a ticking clock challenge you to the ultimate battle for table football supremacy. And it doesn't stop there…
Fight over who gets the last turkey leg? FlikIt FlikIt to win it.
Argument over what to watch on tv? FlikIt FlikIt to win it.
Finally settle the debate on who'd make the better quarterback, Grandpa or Nephew Bobby? Well, they'll have to FlikIt FlikIt to win it.
A great gift this holiday season, the board game offers table football fans a more immersive experience with branded t-shirts, masks, books and DVDs related to America's love of football. And to top it all off, there's even free shipping and a free mystery gift with every order.
Aimed at ages eight and up, FlikIt FlikIt brings the whole family together for football fun. Each game box contains a six-fold game board, one field goal post, 32 team footballs, 10 power-up cards, one rule book and a scorecard.
The board game, which is also available to purchase on Walmart.com, was developed by football enthusiast, veteran and father, Edward Galloway. With over 18 years of experience as a football coach, Galloway is keen that the game should bring families together and help support young people. A portion of each sale will be donated to youth groups across California - so it's guilt-free gaming!
A satisfied customer said: "Great game. Took me right back to playing paper football in the high school cafeteria - I had no idea that my kids were doing the same thing at recess. They actually unplugged long enough to play three games each! Would never have guessed my nine-year-old had such a wicked flick. Next Saturday, it's kids vs parents: winner picks the movie - wish us luck!"
Order your FlikIt FlikIt game now at http://www.flikitflikitfootball.com and may the best flicker win!