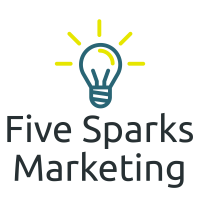 Can they really get your businesses to show up on page 1 of google in less than 30 days for services that real buyers are searching for?
Visit https://www.fivesparksmarketing.com/paid-advertising to find out.
Five Sparks Marketing announced the beginning of its new Pay Per Click (PPC) advertising management service, which has been in development since the beginning of the year.
Craig Holder, Founder at Five Sparks Marketing, says: "We wanted to do something new with this Pay Per Click advertising management service. Anyone familiar with Digital Marketing will probably have noticed how everyone else seems to sell SEO, which they think allows them to take your money and not deliver any measurable results. This is a problem because small businesses have a limited budget to spend on marketing. They need to have that budget used effectively to bring more customers in then their marketing budget can grow. Otherwise small businesses can become extinct."
So as a welcome breath of fresh air, Five Sparks Marketing will instead focus on getting customer leads into the business within the first month, then optimising the performance to reduce cost and bring in more high quality leads. Five Sparks Marketing chose to make this move because they care about local business' and want them to compete against the faceless nationals.
Craig Holder also said "We want to give our customers the ability to focus on serving their customers and running their business. Not worrying about marketing, as it is all sorted out for them. With our new PPC advertising management service, they have a fresh new possibility. We want them to feel at peace with their digital marketing and lead generation when using our service. Trying something new is always a risk, but it's a risk we believe is worth taking."
Five Sparks Marketing has been in business Since the start of 2022. Since Day 1 it has always aimed to help local businesses to compete with faceless nationals by making the most of their online presence.
The new PPC advertising management service became available for you on the 1st of May 2022. Some Beta customers have already used the service and left positive feedback such as Leamon who said "If you're looking for an optimal marketing program for your business rather than a cookie cutter approach, you can have it. Every business I have ever known is unique. Craig will treat it that way as well."
Find out more about PPC Ads Management and Five Sparks Marketing visit https://www.fivesparksmarketing.com/