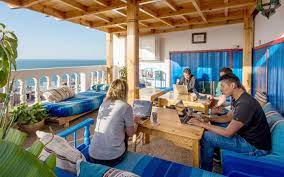 Be it Chiang Mai in Thailand or Paris in France, many digital nomads head straight for the big cities. If you're looking for a remote working destination that offers local charm, read on to learn why you should consider a ticket to Taghazout.
Go to https://crucialconstructs.com/how-to-be-a-digital-nomad-in-taghazout-morocco for more information.
While the concept of digital nomads has been around for some time, the rise of remote working during the pandemic has made many more people aware of the possibilities. Those of us who have some experience want something that's off the beaten trail. In its most recent guide, Crucial Constructs explains why Taghazout epitomizes the digital nomad lifestyle.
Known for its surf beaches, Taghazout is located within a 30-minute drive north of Agadir on Morocco's Atlantic coast. While many remote workers focus their attention on large cities, Crucial Constructs' latest destination is a relatively small fishing village that will appeal if you're looking for more adventure. Do some work in the daytime, surf in the afternoon, then enjoy Moroccan cuisine and drinks in the evening. Rinse repeat. Sounds like heaven to me, too.
Of course, internet connectivity and working spaces are a top priority for our digital nomad community, and the new guide begins by outlining the many options. As the author explains, there are multiple coworking spaces and cafes in the township. In addition, many of the affordable accommodation choices also have Wi-Fi access.
One of the main draw-cards of the digital nomad lifestyle is the ability to enjoy new experiences and cultures. To that end, Crucial Constructs also provides you with an in-depth description of the local attractions in and around Taghazout. The guide lists many popular restaurants, along with the most popular beaches and several day trips in the area. Everything you need to start your next adventure.
About Crucial Constructs
Established specifically for a new breed of digital entrepreneurs, Crucial Constructs offers an extensive library of complimentary reports and guides covering a wide range of topics. The website also provides product and software recommendations based on user experience, along with a unique training academy for those wanting to explore a career online.
A company representative stated: "Along the Atlantic coast of Morocco is an easygoing fishing town called Taghazout. It's an internet user's paradise and a beautiful little seaside retreat. Not only is it the perfect base for digital nomads, but the local attractions make it an amazing vacation destination. Be sure to add Taghazout to your digital nomad to-do list."
Taghazout has almost everything that makes digital nomad life great. Ready to pack your laptop?
While you're there, check out some other great destinations. Click on https://crucialconstructs.com/how-to-be-a-digital-nomad-in-taghazout-morocco so you can learn more.