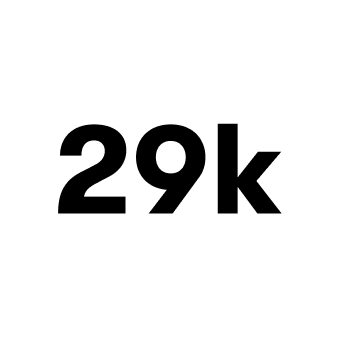 Sssh, here's a secret: A lot of us feel lonely. It's not as openly dramatic as what we see on popular media, where we're drinking wine in our underwear and throwing food at the television screen. However, it's the bleak feeling that catches us at unexpected moments: that tug in your heart knowing that you don't really have someone to talk to.
You are productive. You are successful. You are physically healthy. You could even be surrounded by so many people and still feel alone.
Loneliness is a growing epidemic - and one that we, as a society, are consciously ignoring. Let's change that narrative by developing healthier relationships.
29k, a mental health and personal growth community app, releases a new article called, "How to Build Healthy Relationships?" Here, you are encouraged to be vulnerable with the people you love and engage in constant and transparent communication.
The article explains the value of communication in building healthy relationships. According to 29k, all relationships, whether they're romantic, personal, or work-related, need to have a strong foundation based on how well both parties express their needs and goals.
Read it now at https://29k.org/how-to-build-a-healthy-relationship
Some people may struggle with connecting with another person. In fact, newer data discusses the possibility that the pandemic has made people feel lonelier and unable to form healthy relationships with friends, family, or strangers. This is further highlighted in 2022 statistics that show that the number of romance scams in the world, particularly in America, has risen by around 30%.
Do you know that we lose billions of dollars combined EACH YEAR due to our loneliness and falling for catfishing schemes? We want to believe so much that the people we meet online will love us that we forget how to build relationships with anyone!
In its article, 29k encourages you to form stronger relationships by creating a safe space where both parties can share and express themselves without judgment. This includes setting boundaries and respecting each other's values, beliefs, and opinions on difficult topics such as politics, religion, and sexuality, among others.
The most important factor in building a healthy relationship is vulnerability. By openly communicating your thoughts and feelings, you allow yourself to be vulnerable and open, which in turn, inspires the other party to do the same.
Lastly, a healthy relationship is built on the knowledge that not all experiences are going to be good - a true test of friendship or love is how well both parties handle difficult situations together.
As stated in the article, "Having the awareness that no relationship is smooth sailing can help us set realistic expectations for what a healthy relationship is and what commitment looks like. It can also give us the courage and willingness to stick through and do our best to be present through both the good times and the rough patches."
The 29k platform offers psychological tools, immersive courses, exercises, and helpful resources on the topic of inner growth, as well as an online community where you can share your experience with other users. With its latest report, the organization continues to provide readers with evidence-based psychological tools for mental health, personal development, and wiser decision-making.
Go to https://29k.org/how-to-build-a-healthy-relationship so you can learn more.