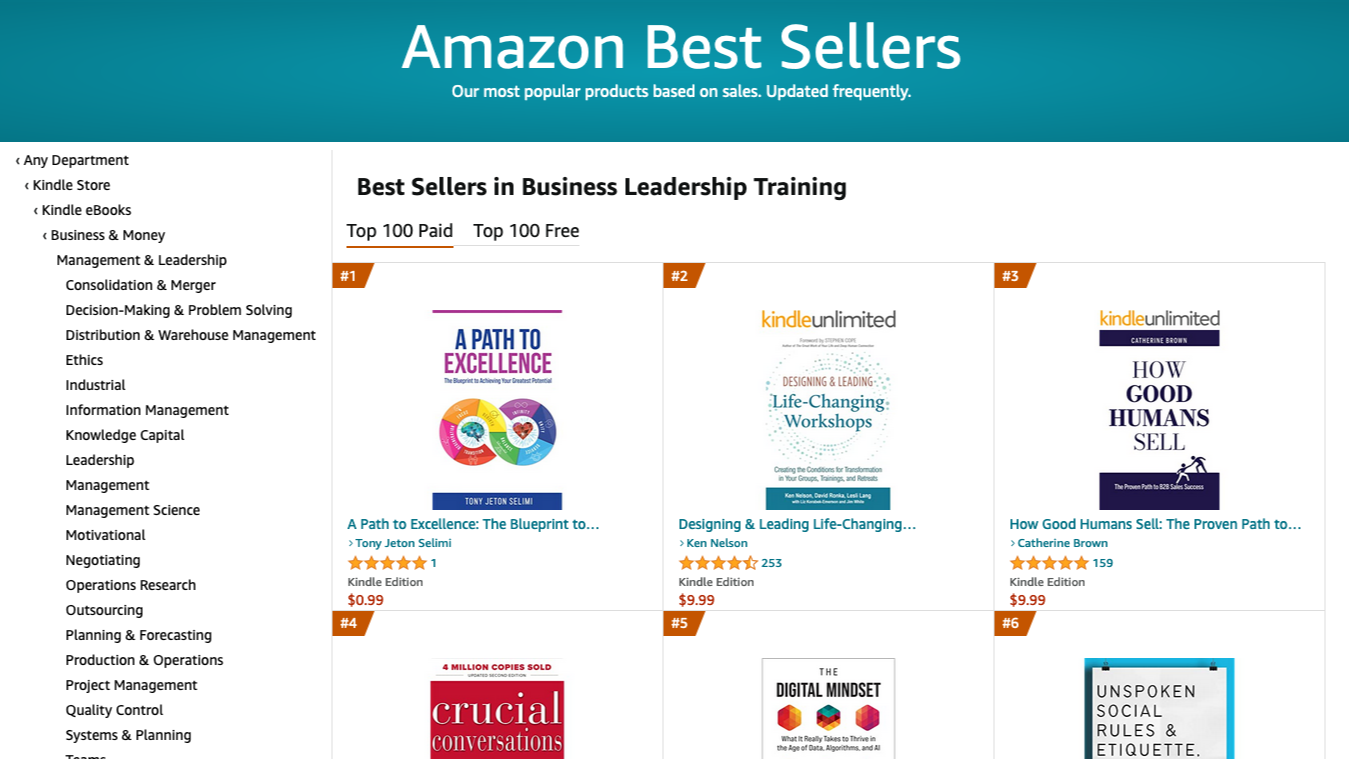 It's not always easy to know what you want from life, let alone how to get it. But with Tony J. Selimi's new book, "A Path to Excellence: The Blueprint to Achieving Your Greatest Potential", you can clarify your future vision and make strides toward making it a reality.
Ideally suited to business owners, leaders, and individuals interested in self-improvement, self-governance, and Self-mastery, the book offers expert advice on achieving personal and professional excellence. It draws on Tony's 30 years of experience as a life and business transformation coach and includes practical strategies he devised during his journey.
Here's some good news: Tony J. Selimi has launched a special promotion for his bestseller to help as many people as possible live their best lives. For a limited time, you can get your copy at $0.99 on Amazon.com and £0.99 on Amazon.co.uk!
You will find actionable tips on overcoming limiting beliefs, clarifying your vision, and transforming your perspective so you can focus on the things that matter most to reach your highest potential. Tony has included techniques to achieve self-mastery and explains how he used the Octagon of Excellence eight-step method to overcome adversity and become a successful seven-figure business owner and internationally recognized author, speaker, business coach, and life strategist specializing in human behavior, leadership development, and maximizing human potential.
"It is an honor to show up on these lists, and I have many of you and readers from around the world to thank for this," says Tony. "I appreciate the time you invest in my work and will continue to deliver uplifting books that challenge you to step beyond your limits and reach your full potential for years to come."
Based on Tony's proprietary Octagon of Excellence Method, the new book challenges you to develop the skills and capabilities to live the life you want, step beyond your perceived limits and become the master of your destiny. It follows a blueprint format. Tony explains the eight components of human excellence and advises you on how to embody these. Going through these eight principles step by step, you'll be to overcome ambiguity and find clarity on what you would like to achieve in the critical areas of your life. You will receive the tools and strategies to fine-tune your vision, build resilience, face challenges, learn from your mistakes, and collaborate with others to achieve maximum results.
According to Tony J. Selimi, all people are destined for excellence. No matter what stage of life you are at and what you have achieved, it is never too late to accept that your reality is the result of your choices and choose to pursue excellence. His latest Amazon #1 Bestseller assists you in deep self-reflection, helping you discover what you're capable of, transcend old paradigms, and live a meaningful and rewarding life.
To date, the new book has received positive reviews from notable figures in the personal development world, such as Marie Diamond, a global transformation teacher, and Dr. John Demartini, Human Behaviour Specialist, both stars from The Secret, as well as readers from around the world.
Summarizing the book's key themes, a spokesperson for Tony J. Selimi says, "Are you tired of settling for mediocrity? Do you want to become the high-achieving person you know you can be? Then this book is for you. Thoroughly researched with authentic advice and ground-breaking strategies, this illuminating blueprint for self-mastery invites you on a journey to realize your full potential, clarify your vision, and dare to achieve your dreams. It encourages you to become the master of your destiny."
You owe it to yourself to succeed - and with Tony Jeton Selimi, you can!
Are you ready to walk the path to excellence? Head to https://www.amazon.com/Path-Excellence-Blueprint-Achieving-Potential/dp/B0B8317KN to take your first step on the road to success.