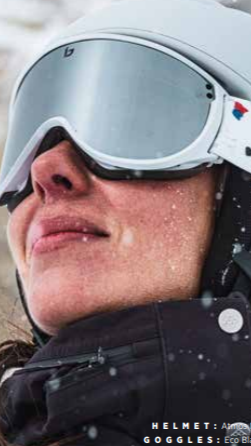 A Sight for Sport Eyes, a sports eyewear company, has anti-fogging goggles and stylish sunglasses designed for Skiers, snowboarders, and mountain hikers. The new line of glasses and goggles come in a wide range of styles and custom options.
Check them out at https://www.sporteyes.com/eyewear-by-sport/skiing-and-snowboarding-goggles.html
The number one thing a skier or snowboarder wants their goggles to do is protect their eyes, whether from the wind, a tree branch, or taking a hard fall. Equally important for riders: they want to see!
A Sight for Sport Eyes has you covered. They're providing you with goggles and sunglasses that look good, won't easily break, and allow you to see everything even if you need a prescription.
Some of the goggles they offer come with wind guard shields that protect the eyes from debris and help control the wind so as to prevent wind burn and excessive blinking. A Sight for Sport Eyes also uses proprietary technology on some of the goggles they offer. The Julbo Aerospace Snow Goggles, for instance, come with ventilation technology that will allow you to pull the lens forward from the frame for maximum airflow.
If you're more of a sunglasses person, the winter eyewear specialists offer a variety of options that come with unique features. The Tahoe Sunglasses by Julbo, for example, have removable side shields that serve as extra protection from sunlight. Made out of soft material, the fabric side shields were designed to provide comfort without causing irritation.
The sunglasses also come with a shock-absorbing nose grip and rubber temple arms. The rubber nose piece and temple arms were designed to stay put despite frequent and sudden movement and to prevent hair from sticking to the glasses.
A Sight for Sport Eyes has glasses and goggles with the latest advances in technology, style, comfort, and protection.
A satisfied client said: "The whole experience with your company was fantastic, from the moment I placed the order, the times I chatted online with your personnel, and the time it took for the goggles to arrive here in Canada. I have already recommended your services to a couple of friends of mine. Thanks again."
If you have any questions or need help choosing the right pair of glasses or goggles, there's a buying guide on the website in addition to the chat feature. What are you waiting for? Visit https://www.sporteyes.com/eyewear-by-sport/skiing-and-snowboarding-goggles.html