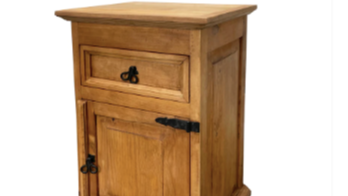 If modern design leaves you feeling cold, Rustic For Less' antique-looking accent furniture will give your home that much-needed warmth. Even better, they won't break the bank!
A spokesperson says that its rustic furniture is a response to the growing popularity of the Southwest Style design trend. Starting today, you can purchase the following:
•Dorado Sliding Top Nightstand (Traditional Collection)
•Yugo No-Back Bar Stool (Slate Collection)
•Antique-Inspired Coffee Table (Cabana Collection)
Learn more by visiting https://www.rusticsforless.com
All three items are made in Mexico by skilled carpenters and feature long-lasting pinewood. Premium materials like leather and wrought iron have been used for the seating, hinges, and pulls to give your home an elegant look.
STYLISH AND SPACIOUS
The Dorado Sliding Top Nightstand is ideal if you need discrete storage space. The drawer under the tabletop can hold your jewelry and other valuables. It comes with a medium stain wax that creates an appealing light-brown tint.
SOPHISTICATED SEATING
With its dark-brown stain and riveted leather covering, the Yugo No-Back Bar Stool adds a sophisticated touch to your kitchen. Measuring 24 inches tall, it can be paired with your home bar or kitchen island. Each of the four legs has rustic carvings on the side.
THE CENTER OF CONVERSATIONS
The Antique-Inspired Coffee Table gives your living room an appealing focal point. Measuring 20.5 x 30 x 50 inches and offering four side drawers, this piece provides you with plenty of space. It features a faded blue-green tint to create an old-world look.
ABOUT RUSTICS FOR LESS
The mission of Rustics For Less is to make vintage-inspired furniture attainable for more people. Its talented artisans marry modern materials with unique wood stains to create pieces that have a charming aged look. In addition to retail sales, the company can also fulfill wholesale orders — including those for Airbnbs and other vacation rentals.
Rustics For Less has partnered with Affirm, allowing you to convert your final bill into four monthly installments. The spokesperson adds: "This is in line with our belief that rustic furniture need not cost a fortune. Such an arrangement makes upgrading your home that much more feasible."
Old school is cool again, so don't be left behind! Order your accent pieces from Rustics For Less today and give your home some added appeal.
Just visit https://www.rusticsforless.com/collections/farmhouse to see the store's other collections.