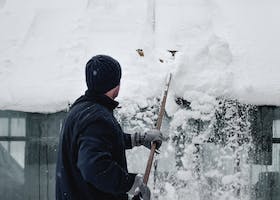 Gutters are designed to channel water away from your home, but when they become clogged with leaves, sticks, and other debris, they can't do their job properly. Seattle Window Cleaners can remove blockages caused by leaves in downspouts, ensuring that water flows smoothly and your home is protected from water damage.
Go to https://www.westseattlewindowcleaner.com for more information.
Another common problem for homeowners is moss growth on roofs. Not only is moss unsightly, but it can also cause damage to your roof over time. Seattle Window Cleaners uses zinc to remove and prevent moss growth, keeping your roof looking and functioning great.
Natural zinc is a safe and efficient way of cleaning roofs as it activates with rainwater and becomes absorbed by moss. This kills off light moss growth and is also effective as a preventative maintenance strategy.
Seattle locals are lucky to be surrounded by so many beautiful trees, but unfortunately, this means you're likely to find that your gutters become clogged at least once or twice during the year. Seattle Window Cleaners offers a regular gutter cleaning service to remove debris and blockages, ensuring gutters maintain their full functionality and divert water away from your house's foundations.
This local contractor also offers window cleaning and pressure washing services, plus holiday lighting installation and removal. You can get an instant quote via Seattle Window Cleaners' website, or contact the company to discuss specific cleaning and maintenance needs if you're readying your home for a wedding or other special event.
Seattle Window Cleaners' expert roof and gutter cleaning services are just one example of the company's ongoing efforts to exceed your expectations by using the safest and most effective cleaning methods available.
Seattle Window Cleaners was founded in 2008 to provide high-quality window, roof, and gutter maintenance services to customers throughout West Seattle and surrounding areas. Over the past 15 years, the company has established a strong reputation for its professional customer service and meticulous cleaning, as indicated by its numerous positive client testimonials.
A satisfied customer said, "Very professional and friendly. They did an excellent job and we will definitely hire them again in the future."
Don't let dirty gutters and stained roofs bring you down. Visit https://www.westseattlewindowcleaner.com and let them take care of all your home exterior cleaning needs.