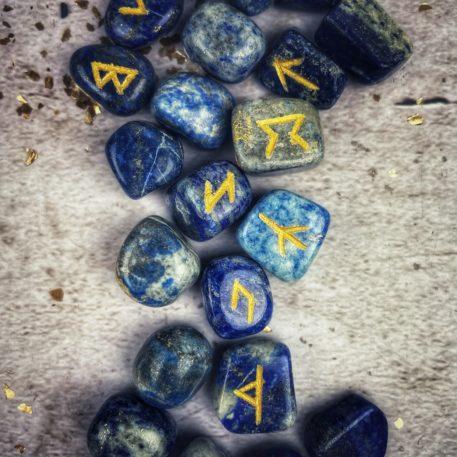 Discover the remarkable world of crystals that once guided the ancients! Get a sense of what the future holds with Parlour of Wonders' spiritually charged divination tools.
Their lapis lazuli gemstones feature a complete set of 24 Elder Futhark runes and an additional blank rune. Lapis lazuli gems are considered to be power stones in ancient Egyptian culture and, when used in runic divination, can enhance your intuitive ability and awareness.
Go to https://www.parlourofwonders.com/product-category/rune-sets for further information.
Suitable for students and those who wish to boost their brain power, Parlour of Wonders' latest rune sets come packaged in a stylish velveteen storage bag that makes it a perfect lifestyle gift for your family members and friends.
The traditional Elder Futhark carvings etched on the crystals date back to between 150 and 800 ACE. This makes the runic style the oldest known runes and is often traced back to tribal movements through northern Germany, Norway, Sweden, and Denmark.
"Rune stones have a powerful and magical history and hold strong divinatory powers," explained the owner, Madame Pamita. "Lapis gemstone can be used in manifestations or self-healing rituals to sharpen intuition and promote understanding of past lives."
Each of the gemstones in the collection is imbued with a unique personality and vibrational energy that helps you to connect to your inner self. Like other divination tools, such as tarot cards, many believed runes could provide guidance and insight into a specific aspect of their lives.
In addition to their lapis lazuli gemstone set, Parlour of Wonders also has rune collections that feature bone, rose quartz, carnelian gemstone, black agate gemstone, amethyst, rainbow moonstone, and sunstone gemstones.
The online store, which focuses on everything spiritual, carries several books, including Lara Veleda Vesta's "Wild Soul Runes" and Edred Thorsson's "The Big Book of Runes and Rune Magic," which can be bought along with the rune sets to guide you on the proper use of the gems.
Alongside rune sets, Parlour of Wonders retails other spiritually charged items, such as cleansing soaps and bars, bath crystals, candles, tarot decks, and incense. They ship across the United States and Canada.
Madame Pamita said, "Lapis Lazuli is the stone of royalty, and this rune set can bring clarity, wisdom, and psychic awakening to your divination work."
Raise your vibrational energy with this lapis lazuli gemstone rune set and tap into your higher self's wisdom for clarity on life's issues!
Visit https://www.parlourofwonders.com/product-category/rune-sets to get all the details you need.