13 Of The Most Horrific Crimes Committed By Bollywood Villains. RANKED.
Everyone is always talking about the heroes setting the screen on fire. Check out these villains who have done the same…literally!
13. Sadashiv Amrapurkar as Maharani in Sadak – The evil eunuch madam of a brothel can send shivers down your back with the way she treats her "girls".
12. Sanjay Dutt as Kancha Cheena in Agneepath – The evil-spewing genius is a completely dark character who indulges in murder, drugs and crimes as if they were child's play.
11. Ashutosh Rana as Gokul Pandit in Dushman – The sinister serial rapist is the ordinary guy you wouldn't look at twice which is what makes his crimes even more heinous.

10. Suman Talwar as Digvijay Patil in Gabbar is Back – Corrupt, cruel and cunning describes the role of Patil. He commits murders at the drop of the hat and bribes everyone to forget it.
9. Danny Denzongpa as Dashrat Singh in Jai Ho – The Home Minister is used to having his way. Anyone unfortunate enough to get in the way will be eliminated with ease at the blink of an eye.
8. Sudeep Sanjeev in Makkhi – The womanizer multi-millionaire is the ultimate "pyar ka dushman".
7. Kabir Bedi as Sanjay in Khoon Bhari Maang – The greedy man marries a rich widow for her money and then throws her in crocodile-infested water and watches her get mauled by one.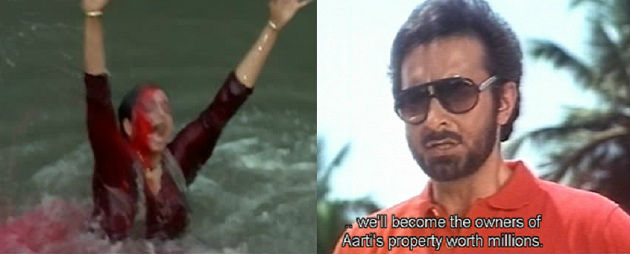 6. Varun Dhawan as Raghu in Badlapur – The avenging widower commits murder in cold-blood and goes about leaving a trail of destruction in his wake.
5. Urmila Matondkar as Ma'am in Kaun – With the dead bodies piling up, it is difficult to imagine that the nervous chit hiding from a serial killer on the loose is herself the mastermind.
4. Amrish Puri as Thakur Durjan Singh in Karan Arjun – the cruel greedy old man didn't only murder the father, but also his two sons Karan and Arjun leaving their poor mother Raakhee suffer her whole life.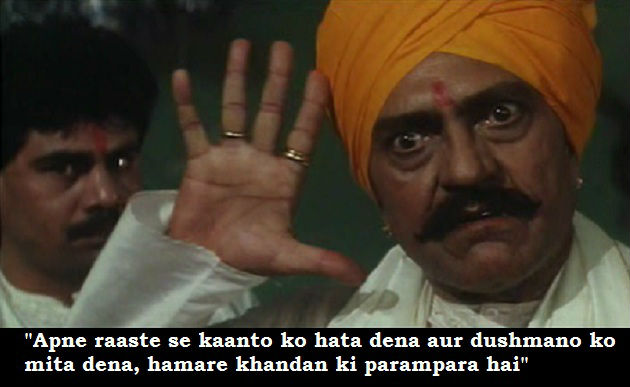 3. Ranjeet as Kundan in Sharmilee – Ranjeet started his career as a serial rapist from this movie. Easily considered the devil incarnate as he went about his lusty exploits with every woman he could get his hands on.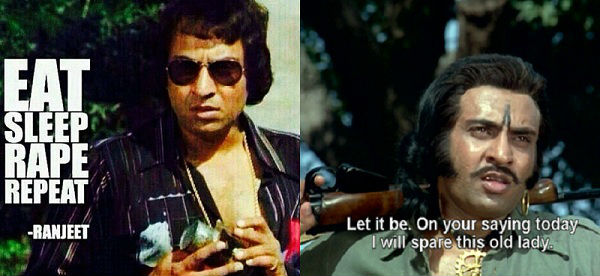 2. Shahrukh Khan as Rahul in Darr – The obsessive lover takes stalking to such a level that the poor girl is frightened of her own shadow.
1. Amjad Khan as Gabbar Singh in Sholay – The big bad king of villains started it all by chopping off the hands of Thakur and killing his entire family. No wife, no hands – how miserable Thakur's sex life would be 🙂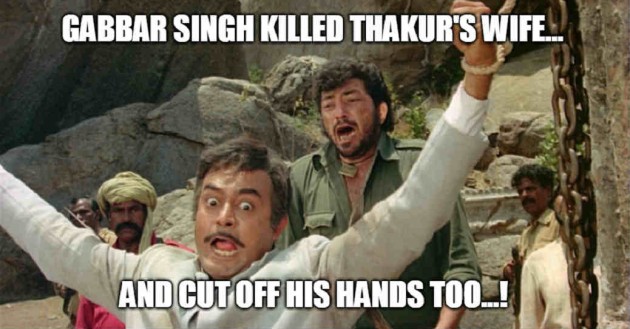 Hope none of the real criminal masterminds take inspiration from these.