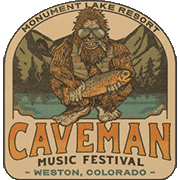 The festival will be held at the picturesque Monument Lake Resort, offering the perfect setting for a weekend of live music and outdoor activities. The festival scheduled for the 2nd, 3rd & 4th of September is set to feature headlining acts Zack Bryan, Big Head Todd & The Monsters, and Grace Potter, as well as over 20 other talented artists. With an expected attendance of nearly 10,000 fans, the festival promises to be a memorable celebration of Americana.
For more information on the 2023 Colorado Music Festival and its location, please see https://cavemanmusicfestival.com
Situated between Trinidad and La Veta, the 368-acre Monument Lake Resort offers a variety of outdoor activities for festival-goers to enjoy. Attendees can enjoy a day of fishing and hiking between catching performances by their favorite bands.
The resort's 250-foot sandstone rock formations and fish hatchery also provide opportunities to learn about the local culture and history. For those who enjoy boating and fishing, the waters of Monument Lake offer an additional option to relax and unwind.
In addition to the music and outdoor activities, the Caveman Music Festival also offers a range of lodging options in line with a range of preferences and budgets. Guests can choose from various packages, including a Super VIP package which includes lodging on the festival grounds in a lodge room, cabin, or RV.
The festival's two stages will host a total of 24 music acts over the three days, featuring some of the most talented and acclaimed names in Americana music. The lineup is diverse, with a mix of established artists and emerging talent, ensuring that there is something for everyone to enjoy, whether a long-time fan of the genre or someone looking for a new experience.
Brett McGraw, Red Shahan & Parker Morrow founded the Caveman Music Festival to showcase some of the most talented artists in Americana music today. Attendees can expect their RFID wristbands to be delivered 3-6 weeks before Labor Day weekend and are advised to wear them only at the festival. Dogs on a leash are allowed in the resort and at campsites.
According to a spokesperson for the organizers, "Finish your summer off with three days in the mountains listening to your favorite artists. Caveman Music Festival at Monument Lake Resort in Colorado is the perfect place to grasp the last sun-soaked days of summer."
Interested parties may contact the organizers by visiting https://cavemanmusicfestival.com/contact-us